'Goon: Last Of The Enforcers' Trailer: Seann William Scott Is Back On Ice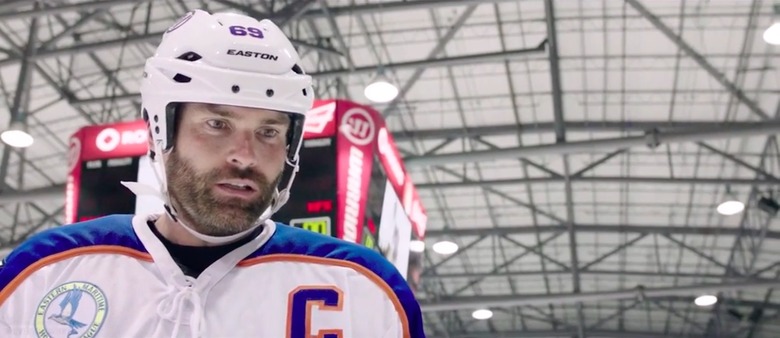 Canadian Thanksgiving came and went over a month ago, but American Thanksgiving takes place this week. So consider this a little holiday gift from our neighbors in the north. The first trailer for Goon: Last of the Enforcers brings back Seann William Scott as hockey enforcer Doug Glatt. Though he's retired now, the sequel sees him lured back to the ice in search of glory.
Liev Schreiber returns as his professional rival, and Alison Pill as his love interest. Elisha Cuthbert and Wyatt Russell have also joined the cast. Jay Baruchel, who co-wrote and co-starred in the first film, makes his feature directing debut with Goon: Last of the Enforcers. Check out the Goon: Last of the Enforcers trailer below.
Goon: Last of the Enforcers Trailer
The first Goon was a pleasant surprise, a heartfelt comedy centered on a sweet, simple lead who finds himself out of his element when he's recruited to join the Halifax Highlanders. And while tons of sports movies feel generic, Goon also felt steeped in the unique quirks of Canadian hockey culture. It sounds like Last of the Enforcers will continue in that vein, based on recent comments by Baruchel:
This is about an age that's drawing to a close. It's a role, the goon, that's going out of fashion. It was the stuff of talking heads when we made the first movie, about whether or not these guys have a place and how much of a place they should have. This is even more so now. It's timed out perfectly to what we wanted to say about Doug's (Seann William Scott) career. If we do our jobs telling the story right, then Doug is the prototype and represents a bygone era. He's the last cowboy during The Depression, sort of thing. That's the goal of the story we're trying to tell.
Goon: Last of the Enforcers opens in Canada March 17, 2017. No U.S. release date has been announced.
After one too many concussions, hockey enforcer Doug Glatt (Seann William Scott) is forced to give up his aspirations of going to the big show and settle into a buttoned down career as an insurance salesman at the urging of his pregnant wife Eva (Alison Pill). However, Doug can't resist the siren call of the Highlanders, so he sets course to reclaim his former glory.