Michelle Yeoh Boards 'Star Trek: Discovery' [UPDATED]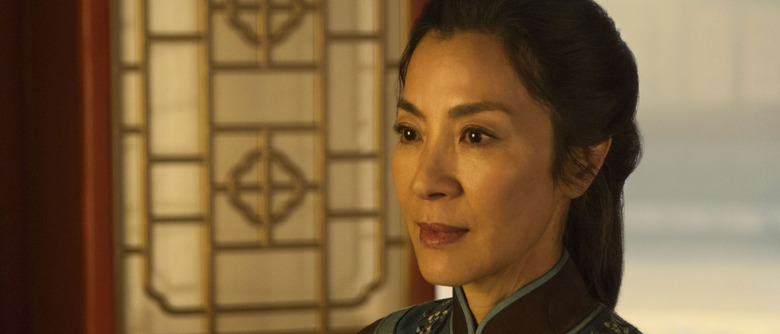 Star Trek: Discovery took a big hit last month when Bryan Fuller stepped down as showrunner, but the project is still boldly going forward. And as of this week, it looks like they may have revealed their first star. According to producer Nicholas Meyer, Michelle Yeoh is boarding the sci-fi television series for CBS All Access.UPDATE: New details have been revealed about Yeoh's character. Learn more below.
Meyer — who directed Star Trek II: The Wrath of Khan and Star Trek IV: The Voyage Home and serves as a consulting producer on Star Trek: Discovery – spilled the beans in a conversation with Coming Soon. He was short on details, saying only, "I know Michelle Yeoh is in it." He did not mention which character she would be playing, or whether she would be appearing as a series regular or just a guest star. CBS has not commented on the Michelle Yeoh Star Trek: Discovery reports.
As reported a few weeks ago, the cast of Star Trek: Discovery includes a female lieutenant commander who'll serve as the lead of the show, plus "an openly gay actor as one of the male leads (which Fuller confirmed), a female admiral, a male Klingon captain, a male admiral, a male adviser and a British male doctor." If Yeoh is playing one of the main characters — and assuming that list is up to date — the lieutenant commander or the admiral are the only roles that would seem to fit the bill.
UPDATE: Deadline reports Yeoh will play Han Bo, who runs another ship called the Shenzhou which will have a "big role" in the first season of Star Trek: Discovery.Star Trek: Discovery is set about a decade before the events of the original Star Trek series. Gretchen Berg and Aaron Harberts (Pushing Daisies) have stepped up to serve as showrunners, replacing Fuller, who is still involved as an executive producer. Akiva Goldsman is also on board. The series is on course to debut on CBS All Access in May 2017.
Yeoh can currently be seen as Lotus on Netflix's Marco Polo, and she's appeared this year in Crouching Tiger, Hidden Dragon: Sword of Destiny, Morgan, and Mechanic: Resurrection.