2017 Independent Spirit Award Nominations: 'Moonlight' And 'American Honey' Lead The Pack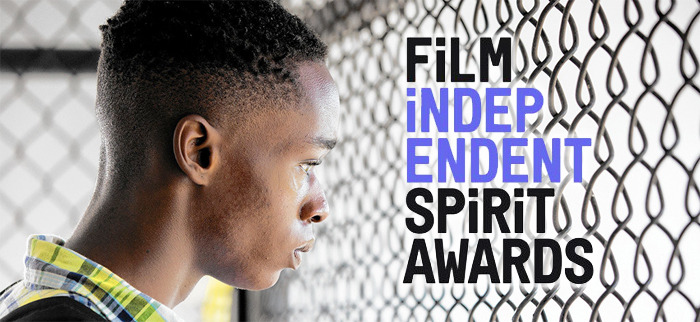 We're heading into the heart of awards season, and first out of the gate with accolades to go around is Film Independent with the 2017 Independent Spirit Awards nominations, honoring achievements in the world of indie cinema. This year the nominations seem to be spread out quite a bit, though there were a couple clear leaders in the number of nominations.
Both Moonlight from Barry Jenkins and American Honey from Andrea Arnold came away with six nominations each, including Best Feature and Best Director. Other nominees spread across various categories include the Sundance sensation Manchester by the Sea, the first lady biopic Jackie, the comedic drama Other People, the quirky farting corpse comedy Swiss Army Man, and plenty of other movies that you simply must seek out.
Get the full list of 2017 Independent Spirit Award nominations after the jump.
Coming in behind Moonlight and American Honey is Manchester by the Sea with a total of five nominations, followed by Jackie with four nominations. After that we have Chronic with two nominations, and the rest of the nods are spread out across different titles.
There were some disappointments though as films like Paterson, Weiner, Everybody Wants Some and My Name Is Doris were snubbed completely, while performances from Jeff Bridges and Michelle Williams for Hell or High Water and Manchester by the Sea (respectively) went ignored as well. But even so, this is a great line-up of indie movies. Here's the full list of nominations:
BEST FEATURE
Moonlight
Jackie
Manchester by the Sea
American Honey
Chronic
BEST DIRECTOR
Andrea Arnold – American Honey
Barry Jenkins – Moonlight
Pablo Larrain – Jackie
Jeff Nichols – Loving
Kelly Reichardt – Certain Women
BEST FEMALE LEAD
Annette Bening – 20th Century Women
Isabelle Huppert – Elle
Sasha Lane – American Honey
Ruth Negga – Loving
Natalie Portman – Jackie
BEST MALE LEADCasey Affleck – Manchester by the Sea
David Harewood – Free In Deed
Viggo Mortensen – Captain Fantastic
Jesse Plemons – Other People
Tim Roth – Chronic
BEST SUPPORTING FEMALE
Edwina Findley – Free In Deed
Paulina Garcia – Little Men
Lily Gladstone – Certain Women
Riley Keough – American Honey
Molly Shannon – Other People
BEST SUPPORTING MALE
Ralph Fiennes – A Bigger Splash
Ben Foster – Hell or High Water
Lucas Hedges – Manchester by the Sea
Shia LaBeouf – American Honey
Craig Robinson – Morris from America
BEST FIRST FEATURE
Swiss Army Man
The Childhood of a Leader
The Fits
Other People
The Witch
BEST SCREENPLAY
Barry Jenkins – Moonlight
Kenneth Lonergan – Manchester by the Sea
Mike Mills – 20th Century Women
Ira Sachs & Mauricio Zacharias – Little Men
Taylor Sheridan – Hell or High Water
BEST FIRST SCREENPLAY
Robert Eggers – The Witch
Chris Kelly – Other People
Adam Mansbach – Barry
Stella Meghie – Jean of the Joneses
Craig Shilowich – Christine
BEST CINEMATOGRAPHY
Ava Berkofsky – Free In Deed
Lol Crawley – The Childhood of a Leader
Zach Kuperstein – The Eyes of My Mother
James Laxton – Moonlight
Robbie Ryan – American Honey
BEST EDITING
Matthew Hannam – Swiss Army Man
Jennifer Lame – Manchester by the Sea
Joi McMillon & Nat Sanders – Moonlight
Jake Roberts – Hell or High Water
Sebastián Sepúlveda – Jackie
BEST DOCUMENTARY
The 13th
Cameraperson
I Am Not Your Negro
O.J.: Made in America
Sonita
Under the Sun
BEST INTERNATIONAL FILM
Aquarius (Brazil)
Chevalier (Greece)
My Golden Days (France)
Toni Erdmann (Germany and Romania)
Under the Shadow (Iran and U.K.)
ROBERT ALTMAN AWARD (Best Ensemble)
Moonlight
JOHN CASSAVETTES AWARD (Best Feature Made For Under $5,000)
Free In Deed
Hunter Gatherer
Lovesong
Nakom
Spa Night
KIEHL'S SOMEONE TO WATCH AWARDAndrew Ahn – Spa Night
Claire Carré – Embers
Anna Rose Holmer – The Fits
Ingrid Jungermann – Women Who Kill