Interview: 'Moana' Directors John Musker And Ron Clements On Making Their First CG Movie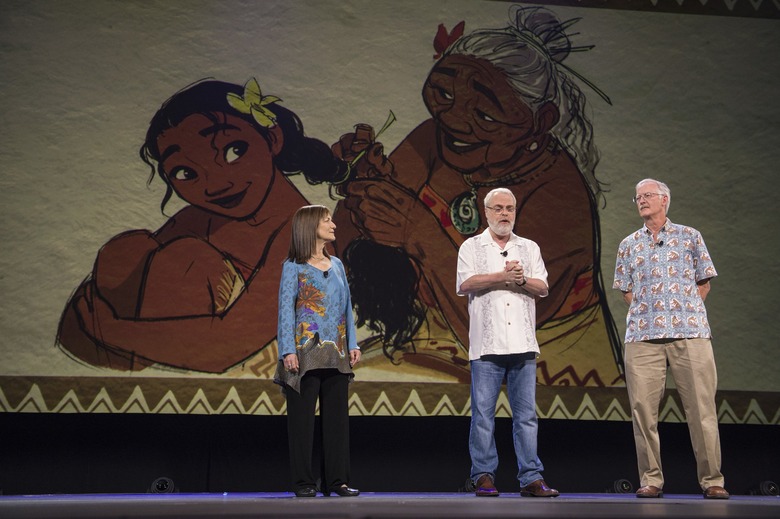 Directors John Musker and Ron Clements are the directors behind Little Mermaid, Aladdin, Hercules, The Great Mouse Detective, Treasure Planet, and Disney's last hand-drawn animated feature film, The Princess and the Frog. Over the past 20 years or so they've helped create some of the studio's most iconic scenes.
Their latest is Moana, a large-scale musical they first started thinking about five years ago. Set on an island in Polynesia, the story follows Moana (Auli'i Cravalho) as she leaves her island, travels the Pacific Ocean, and goes on a spiritual journey with the demigod Maui (Dwayne Johnson). They encounter all kinds of monsters, danger, and beauty on their adventure.
We recently discussed Moana's scope, the realm of monsters, how the story changed, Jemaine Clement, and more with the directors behind Disney's latest animated picture, which features original tunes from Lin-Manuel Miranda, Opetaia Foa'i, and Mark Mancina.
Below, read our John Musker and Ron Clements interview.
I was glad I went into this movie blind. I hadn't seen the trailers, and I was surprised and impressed by the scale of Moana. It's huge. Clements: It's the biggest movie I think we've ever done, certainly in terms of the scope and the amount of special effects and the world. It was funny, it was challenging, there were aspects of the movie I think, certainly for us... It was our first digital form, our first CG film, we've done hand-drawn films. There were challenges that I don't even think we realized going into it how challenging some of those things would be.Musker: So much of the movie takes place on the water, and the water was the hardest thing to animate. It's always in motion, and then we wanted it to be a personality in the movie based on our trips to the South Pacific five years ago, where they talked about the water like it was alive, the ocean had feelings, and emotions, and we said we've really got to get that into the movie, but that meant our special effects who would normally do just the water... We had to team them up with character people who do the characters and acting so it moved not only like an ocean but have it really react, act, to be happy, sad, confused, frightened, whatever it might be. We'd never tackled anything like that before. We had the animation staff, and we had to develop new systems and they just had to work out. It was figuring out how can we communicate those things.Clements: Plus, we had a big lava monster and we go to the underworld. The staff is so good. In every department just over the last few years, the animators, the layout artists... We have tech anim, which we didn't even really know that much about, but tech anim people do the clothes, they do the hair, they do the ropes, they do the sails. Stuff that you don't think of that much, but even what they did with the hair, with Moana and Maui's hair, is really –Musker: It was wet, it was dry, it had to blow in the wind –Clements: And the textures...Musker: They created strand by strand which is certainly a different way than they've ever done before, so it has a really lyrical, beautiful, believable motion, it really is amazing.Clements: The set designs with all of the islands and the lighting, there again, in digital animation lighting is so important, in little ways, more like a live-action film because there's so much you can do with lighting and textures. We were blown away by stuff we were seeing along the way as everything started to come together.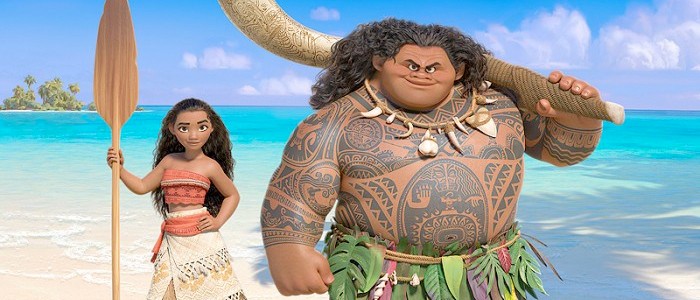 You mentioned one environment I'm curious about, the Realm of Monsters. I imagine you both saw hundreds of designs.Musker: We did. That sequence has evolved a lot because at some point there were more monsters down there and there was a great range of visual development on that. A lot of times on something like that we develop it visually first before the script even gets written and so, they came up with ideas of people and creatures. At one point, it was more of the underworld where you saw even figures there that lived there, like the people that had passed on to the next life, but we focused on...Clements: We focused more on the monster realm, which actually exists in the mythology. We did a lot of research. There's a monster or demon realm within the underworld which is, in the myth, a world that does exist under the ocean...Musker: When originally we had that Tamatoa character that Jemaine Clement did for us, the giant crab, he originally was a headless warrior. We read the Myth of the Headless Warrior and we thought that seemed cool and we made him a collector, we put him down at the bottom of the ocean, but then he didn't speak at all.Clements: We also had a giant crab, and the different thing was...Musker: We had a different scene where we had a giant crab so we wound up combining them, he became a crab and then he could speak and then it just, with the way it worked out, it seemed like we ought to do a song with him, so Lin Manuel-Miranda wrote a song for him, the last song –Clements: Originally there was a different song I think, which will be on the double DVD but there was a song called "Warrior Face" which was the song that Moana and Maui sang together, but as the story developed it felt like –Musker: They were bonding almost too early.Clements: The idea of doing this kind of anti-theme song with Tamatoa –Musker: The theme of the movie is like, "Listen to your inner voice, it's all inside," interior things and so the crab could do the anti-theme, you know, it's all the exterior, it doesn't matter what's on the inside, it's all the outside, so, it was fun to go counter to our own theme.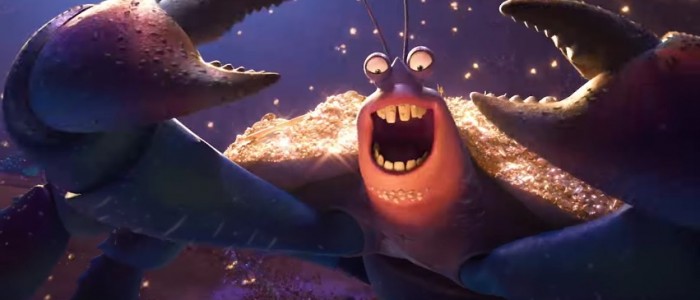 What else happened in the scrapped Myth of the Headless Warrior sequence?Musker: They were making their way to the crab –Clements: She was a little intimidated.Musker: They were down underwater, and Maui's like, "Come on, don't ... You've got to go in, you've got to be tough" and so it's all him like, "Warrior face, da da da da da da" and she's like, "Okay" and so, he's revving her up, basically and she's kind of, "Heeeh! Haaa!" It will be on the DVD, I think, it was a real fun song that Lin wrote.Clements: There's a two-disc set of the soundtrack that has some of the songs that aren't in the movie, and the DVD/Blu-ray will have some of the sequences that were not in the movie. The story evolved, which is true of all the Disney films I think, it's certainly... It's a process, how these films were made and it's kind of intense and there's what we call our Disney Story Trust, which are the directors and writers.Musker: We screen it about eight different times over the years.Clements: We still start with a script just like a live-action movie but we can take that script and storyboard it and put it up on story reels and watch the movie before we make the movie so the process is, we get that up fairly early and then tear it apart. "What's wrong, what's not working, what could be better?" and it just keeps going through this process all along the way.
The gist of the story of a young girl who's the daughter of a chief, who feels this pull and call to the sea, who is going on a quest to save her island, to save her people and has to team up with a flawed demigod, and ultimately go through this hero's journey. That was there, but a lot of –
Musker: How you get there was different. In the original versions, there was no grandmother character when we first...Clements: She had a brother. She had an older brother.Musker: She had five or six brothers but then we liked her being by herself and then we felt like she should have a mentor who's tied to the older traditions and we developed this there, where the grandmother was connected to that and the father was opposed to it. That evolved as we wrote the story.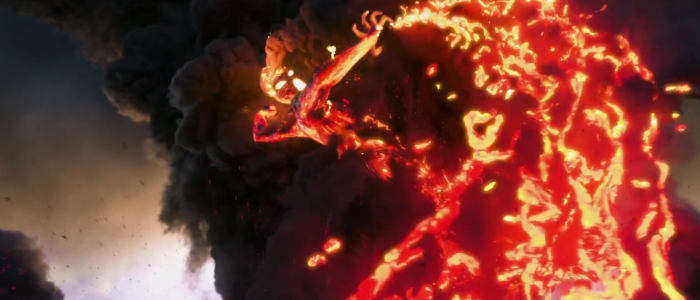 I know the pirate sequence got bigger.Clements: Kakamora, yeah.Were there any sequences that got scaled down? Clements: You're right in terms of the Kakamora that that got bigger, and it was a little nod to...Mad Max: Fury Road, correct?Clements: Absolutely, and it had some elements like that and then John Ripa, who is a wonderful storyboard artist, took it a step further and it's really, really fun.Musker: We used to have a whole ending where she, in her confrontation with the villain at the end, had to dive underwater to plant the heart, and the set involved a lot of water and all this stuff. She wound up getting trapped down there and Maui sort of pulled up the island and saved her, but it made Maui too much the hero of that, so in some ways that'a problem with huge scale. [Spoiler Alert] With the whole thing of her walking up to Te Ka, and that trench and all that, that happened kind of late [Spoiler Over]. In a way, that's scaled down from what it was, but not because of the complexity, just to keep her at the forefront of the story.Clements: There were always quite emotional moments in the movie, just to counter-balance the big scale, big scope moments, so that was always there but it was an interesting... We were always trying to be respectful of the culture and all the wonderful people that we met in the islands. They stayed involved with the movie, not only did we have our Disney Story Trust with the writers and directors but we had an Oceanic Story Trust, people that we had met from the islands that had inspired us and were helpful.
They stayed involved with the movie throughout the entire process and we would get their input. Sometimes there would be things that we wouldn't be aware of but they would be like "It would be better if you would do it another way" and we would make adjustments for that because it was important, we felt it was really important. We were so impressed with the world from our research trips five years ago...
Musker: And we made a personal connection with some of these people that we really felt like we wanted to do right by them because they were so passionate about their culture and loved their culture so much. We grew to love the culture, so we felt like, "We've got to make a movie that they will be proud of too, or embrace." There was an elder, named Papa Mape, and he said to us, "For years we've swallowed your culture, for one time can you be swallowed by our culture?" and it was sort of like we made a pact with him all those years ago on our first trip to the islands. So that was a thought we kept in mind all during those five years of production, to just do right by Papa Mape.
***
Moana is now in theaters.