David Lowery Secretly Shot A New Movie With Casey Affleck And Rooney Mara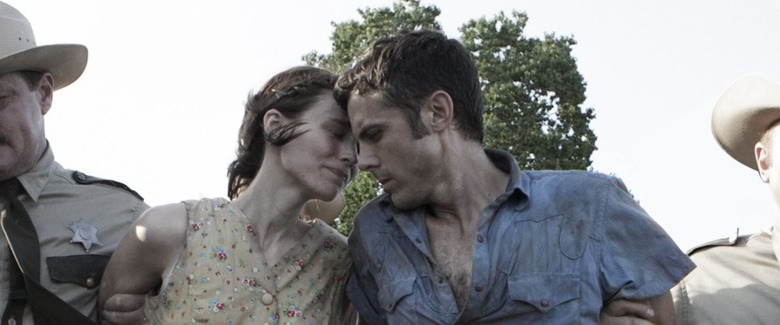 Well, this is exciting. Around the time director David Lowery's Pete's Dragon remake was released he filmed another feature with his Ain't Them Bodies Saints stars, Casey Affleck and Rooney Mara. Lowery shot the mystery film in Dallas, where he'll soon shoot his next drama, The Old Man and the Gun, which he calls a bit of a tribute to its star, Robert Redford.
Below, learn more about the secret David Lowery movie.
While promoting Manchester by the Sea, Affleck told DP/30 (via The Film Stage) about the untitled film. Ever since Affleck and Lowery made Ain't Them Bodies Saints, the writer-director has talked about his desire to work more with the actor. Lowery has a sci-fi project with Affleck in mind, but that's not the movie the director shot this past summer. Affleck didn't say much about the plot, just that he made another film with Lowery and that he'll soon work with him for the third time for The Old Man and the Gun:
I did one this summer, with the same [crew] — it's me and Rooney [Mara] again, who did Ain't Them Bodies Saints — and then I'm doing one in a few months, another one with him, also in Dallas. It's a true story about a bank robber played by Robert Redford who robbed, like, 30 banks and escaped from 30 prisons or something. It's one of those weird stories you can't believe but it was true.
Back in July, Lowery teased this project to Filmmaker Magazine, discussing his desire to make another small, handmade movie the way he used to:
I wanted to make something small and tiny and handmade. I don't know what it is yet, I'm kind of figuring it out. I had the urge to just go make something spontaneously, like I used to do. I would have an idea and go make it, either a short film or an experimental idea. Over the past few years I stopped doing that as much, and I really wanted to get back in the habit of getting some friends together and shooting something. It's a good habit to be in as a filmmaker. I basically wrapped [postproduction] on June 10th and the next day flew to Dallas and started working on whatever this thing is that we're making.
Based on the drama's scale and Lowery's past, it wouldn't be surprising if this project makes its debut at a festival sometime next year. The Ain't Them Bodies Saints crew returning to Sundance a few years later with a new picture would certainly be a treat, but there's currently no word on when we might see it. Lowery's movie was shot by cinematographer Bret Curry, who shared a few behind-the-scenes images from principal photography on Instagram:
The incomparable @davidpatricklowery, Director. Leica Q / Summilux 28 / f 1.7 / ISO 400
A photo posted by Bret Curry (@bretcurry) on