Will The Star Wars Saga Continue After Episode 9? Kathleen Kennedy Responds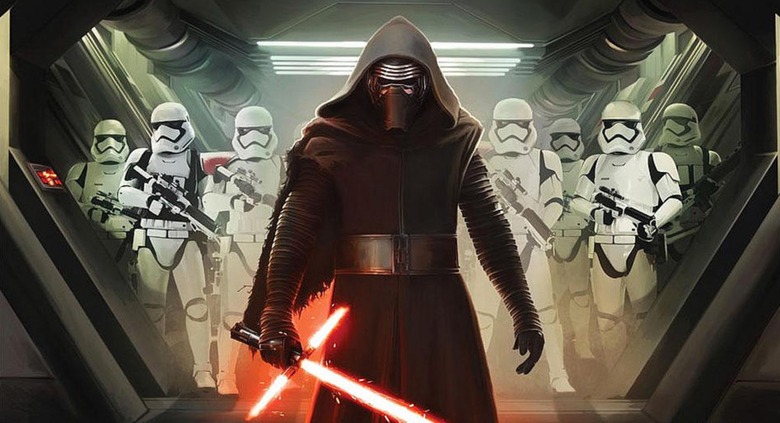 When Disney acquired Lucasfilm from George Lucas, they announced they would be making three new Star Wars films continuing the Skywalker saga, as well as revealed plans to develop stand-alone anthology movies set outside of this overarching story. As we near the first "Star Wars Story" Rogue One, it occurs to us that Colin Trevorrow's Star Wars Episode IX isn't that far off in the distance (currently scheduled to hit theaters on May 24th, 2019). Will that be the finale in the Skywalker movies? Will the Star Wars saga continue after Episode 9? Find out what Lucasfilm head Kathleen Kennedy says, after the jump.
Kathleen Kennedy talked to Entertainment Weekly, as part of their Rogue One cover story, and was asked point blank if Disney is planning to make more Star Wars movies after the new trilogy ends with Episode IX. Will a new trilogy begin or will they be switching over to annual Star Wars standalone films? Lucasfilm president Kathleen Kennedy says:
"That's a conversation going on right now, too. I have to honestly tell you, could we [do nothing but stand-alones]? Sure. But I don't know. We are looking at all of that."
When I talked with Kennedy around the release of The Force Awakens, she explained to me that "the Saga films are primarily the soap opera centered around the Skywalker family." Now that we know that Kylo is the third generation of Skywalker blood, we can see this trilogy will be his story. That is unless Finn or Rey are also revealed to be from the royal family, which is possible. And right now Lucasfilm is telling the third trilogy, which I expect will come to a grand finale in the same way that Return of the Jedi did three decades prior. That doesn't mean there won't be more Star Wars episodes, which could always happen. But will Disney take a break from the Skywalker saga and continue with a series of Star Wars standalone movies?
Kennedy suggests to EW that they are waiting to find out what the audience response is to Rogue One before determining the future of the Star Wars franchise past the original six announced films.
"There are [possible movies] that we have been talking a lot about. But we are planning to sit down in January, since we will have had The Force Awakens released, now Rogue One, and we've finished shooting Episode VIII. We have enough information where we can step back a little bit and say, What are we doing? What do we feel is exciting? And what are some of the things we want to explore?"
As for what is currently planned, Rogue One: A Star Wars Story hits theaters on December 16th, 2016, Rian Johnson's yet-to-be-titled Star Wars Episode VIII will be released a year later, on December 15th, 2017. And then the Untitled Han Solo Star Wars Anthology Film will be released the next summer, May 25th, 2018, followed by the ninth episode in the Star Wars saga directed by Collin Trevorrow, on May 24th, 2019. Simon Kinberg is reportedly working on a third Untitled Star Wars Anthology Film, which is expected in 2020. If Lucasfilm were to continue with the Star Wars episodes, the next film would be due in 2021.
We have no idea what that third Star Wars stand-alone movie is, although director Josh Trank was initially hired to direct a Boba Fett western movie which got bumped from the schedule. EW confirms a rumor we've heard for a while now, that Lucasfilm even prepped a teaser reel to show at Star Wars Celebration in spring of 2015. No word on if that project has been entirely dropped or if that is the project Kinberg is developing. I would guess the latter. The Star Wars Aftermath novel also opened the door to bring Boba Fett back for a new stand-alone adventure.