Watch HBO's Teasers For The Final Season Of 'Girls' And The First Season Of 'Crashing' With Pete Holmes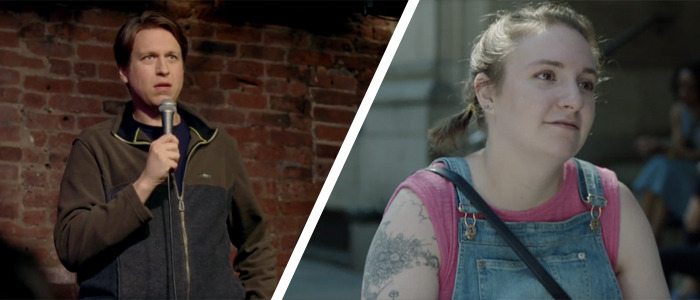 HBO's current run of original programming is winding down before the end of the year. Westworld, Divorce and Insecure will all have their season finales in the next few weeks, but they'll all be back with second seasons, presumably around the same time of the year in 2017. That means it's time to look ahead at HBO's original programming coming early next year, and that includes the end of one of their hit shows, and the first season for an all-new comedy series.
The final trailer for Lena Dunham's hit series Girls has arrived online along with the first trailer for Crashing, the new comedy series starring comedian and former late night host Pete Holmes. Watch them both after the jump.
First up, here's the Girls season 6 teaser trailer straight from HBO:
Not a whole lot of information can be gleaned from this trailer, except the fact that Lena Dunham's character Hannah is reluctantly going on a trip with Marnie (Alison Williams) and her husband Desi (Ebon Moss-Bachrach), Shoshanna (Zosia Mamet) is freaking out about something, Jessa (Jemima Kirke) and Adam (Adam Driver) are excited about something, and there will be loads of First World drama. Remember, this is the final season, and then after this you'll have to find a new show where you hate all the characters for their poor decisions.
Girls returns to HBO on February 12 at 10pm ET.
Meanwhile, here's the teaser trailer for the first season of Crashing:
In the series, Pete Holmes plays a variation on himself, a stand-up comedian who discovers that his wife is cheating on him. So he sets off into New York, crashing on the couches of his various comedian friends and whoever will let him stay over.
This narrative is actually inspired by the life story of Pete Holmes, a once-devout Catholic who got married young, got divorced when he found out his wife was cheating on him, and learned a lot about himself in the process. He's recounted many a tale about his younger years on his outstanding podcast "You Made It Weird," where he has some pretty deep, personal conversations with almost any and every comedian you can think of, and some people who aren't comedians.
It appears that, in addition to Pete Holmes playing a version of himself, several of his real-life comedian friends, such as fellow HBO star T.J. Miller, will be playing themselves. Or they could also be playing variations on themselves, or different comedians entirely. Judd Apatow is producing the series, just like Girls, so coming by talent for the show shouldn't have been hard.
Crashing debuts on HBO on February 19 at 10:30pm ET, and if you're not familiar with Pete Holmes, he also has a new stand-up comedy special coming to HBO on December 3 and 10pm ET. Here's a taste of that: