'Silence' Trailer: Martin Scorsese Heads To Feudal Japan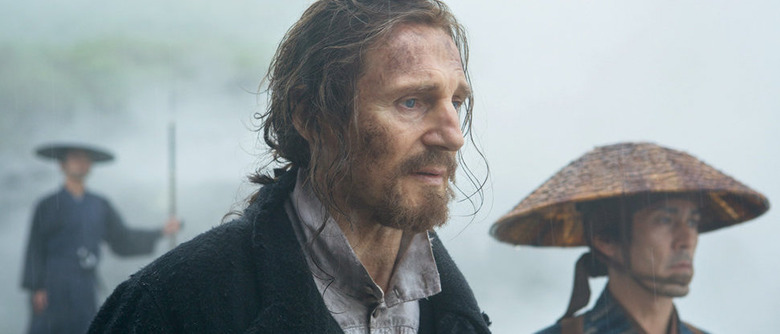 Martin Scorsese has been working on Silence on and off since about 1990, and as of today, it's just a few weeks from release. We've got the first trailer for the new drama, which stars Andrew Garfield and Adam Driver as a pair of Jesuit priests who travel to feudal Japan in search of their former mentor, played by Liam Neeson. So is it worth the wait? Click through to watch the Silence trailer and find out.
Silence Trailer
Scorsese wrote Silence with Jay Cocks (Gangs of New York). It's based on the novel by Shusaku Endo, which in turn was inspired by the true story of Cristóvão Ferreira — a Portuguese Jesuit missionary who renounced his religion after being persecuted. Rodrigues (Garfield) and Garrpe (Driver) arrive in Japan in pursuit of Ferreira, after hearing reports of his defection. They arrive to find the local Christian community driven underground by violence and persecution. Tadanobu Asano (Thor) plays a Japanese interpreter, and Yosuke Kubozuka is Kichijiro, the priests' Japanese guide.
Silence has been slow to start its marketing push. It wasn't until September that we even got ironclad confirmation the movie would arrive before the end of the year. Before that, its absence at any of the major summer and fall festivals had us wondering if it might skip 2016 altogether and aim for 2017. But Paramount clearly wanted to get the movie out in time to compete in the 2017 awards race, and with all this talent involved we definitely can't count this one out of the running. It's not typical for the first trailer to drop just one month before the film's release — but then again, Silence is a Martin Scorsese movie, which means it's bound to get tons of attention no matter what.
Silence is in theaters December 23. Also starring are Ciarán Hinds, Shinya Tsukamoto, and Issey Ogata.