'The Book Of Love' Trailer: Jason Sudeikis Helps Maisie Williams Set Sail Into A Sea Of Cheesy Drama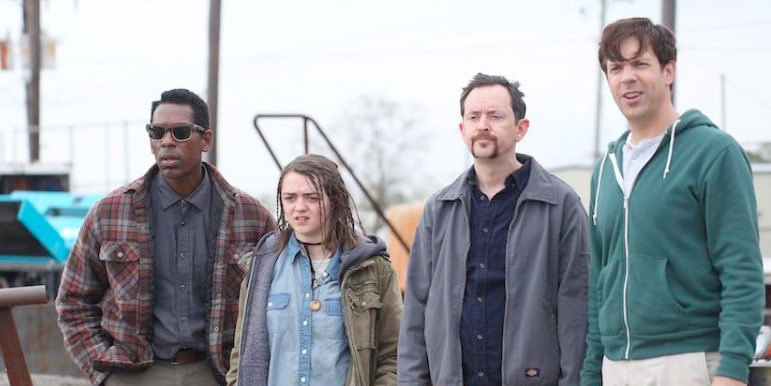 As we get closer to the end of the year, we're starting to get trailers for movies that are getting unceremoniously dumped in January so as to have little to no competition with early spring blockbusters, the prime summer tentpoles or the previous month's awards contenders. One of those is a new comedy that played at Tribeca under the title The Devil and The Deep Blue Sea, but now it has a new title and a telling release date.
The Book of Love has a promising cast featuring Jason Sudeikis and Game of Thrones star Maisie Williams in the story of a widower who sets out to help a young homeless girl build a vessel so she can literally set sail on a metaphorical new path for her life.
Watch The Book of Love trailer after the jump.
Considering the reviews weren't so kind to this movie after it debuted at Tribeca earlier this year, I wouldn't be surprised if the title change is in an effort to distance itself from the negative buzz out there. Nick Schager at Variety wrote:
Sound the quirky-whimsical-uplift alarm, as "The Devil and the Deep Blue Sea" delivers towering tidal waves of idiosyncratic mush. Maudlin flashbacks, contrived twists, transparent themes and a soppy score all slosh about Bill Purple's drama, which concerns a grieving widower and a wayward female teenager who overcome their kindred abandonment issues to build a raft out of trash on which the girl plans to sail across the Atlantic Ocean to the Azores islands. Its every gesture phonier than the last, the Tribeca-launched film appears destined for a watery theatrical grave.
Ouch. And the trailer doesn't offer anything to oppose that reception. It's rather poorly cut, giving the vibe of something like Everything Must Go meets Evan Almighty. It's cheesy as hell, and it's not helped by those Louisiana accents that each cast member is putting on. But without much competition surrounding it in January, aside from the awards season and blockbuster holdovers like Rogue One, maybe the feature debut of director Bill Purple will find an audience.
After the accidental death of his free-spirited pregnant wife, Penny (a luminous Jessica Biel), reserved architect Henry (Jason Sudeikis) struggles to find meaning in his life and in the work that once consumed him. As he continues to work on the house he and Penny were building together, Henry is drawn to a mysterious young runaway named Millie (Game of Thrones star Maisie Williams) whom Penny had often talked about helping. Though Millie mistrusts Henry at first, the two build a tentative friendship as she reveals her ambition to build a raft to sail away from her dark past and start anew. Taking on the father role he was meant to have, Henry neglects his job and other responsibilities to help Millie on her quest. As they work together, he comes to understand that she can help him to heal as much as he can help her.
The Book of Love hits theaters on January 13, 2017.