'The Walking Dead' Showrunner Thinks A Movie Is Inevitable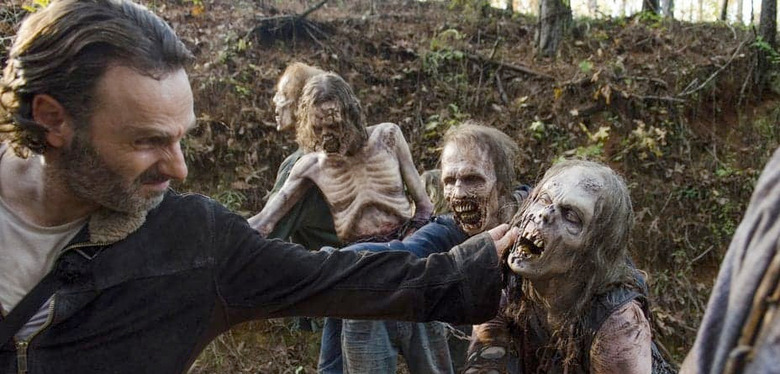 Right now The Walking Dead is in the middle of its seventh season, and it's perhaps the most upsetting season for fans yet. The arrival of Jeffrey Dean Morgan as Negan is really shaking up every aspect of the show, and some fans haven't been able to handle it. That's not stopping the show from being just as popular, and the passion of fans just might result in the title heading to the big screen.
The Walking Dead showrunner Scott Gimple was recently asked about the possibility of a movie ever coming to fruition, and he revealed that it's a topic that has been discussed occasionally. But does that mean the idea has potential? Find out what he had to say about the jump, and also get the remaining episode titles and synopses for the rest of the new episodes this year, but beware of some spoilers.ComicBook.com asked Scott Gimple about the chances of seeing The Walking Dead movie at some point, and here's what he had to say:
"That question comes up every now and again. I'm sure one way or another, one day, it'll happen. I think it would be cool."
So it doesn't sound like it's an idea that's being considered as an expansion to the currently running TV series adaptation on AMC. That shouldn't be surprising since previous discussions about seeing movies tied to popular shows like LOST never came to fruition. Even the campaign for six seasons and a movie for Community seems to have lost steam. Gimple's further comments indicate that if there ever was a film adaptation of The Walking Dead, it likely wouldn't have any ties to AMC's series:
"William Shatner as Rick. We'll get Edward James Olmos as Daryl. Hit all the big shows! Matthew Fox as the Governor!"
In some alternate universe, there's a movie version of The Walking Dead starring the leads of every popular genre TV series, but in this universe, it's not going to happen. As inevitable as The Walking Dead movie might be down the road, if the series has no intention of ending anytime soon as has been indicated, then it will be a long time before that's ever considered.
As for The Walking Dead TV series, there are only three episodes left before the show takes a break for a few months. Since the synopses keep things pretty vague, you might not learn much about what's to come, but fans will surely want to speculate away, so here you go (via ComicBook.com):
Episode 6 – "Swear" – Someone stumbles upon a brand new society, and this society is unlike anything seen before.
Episode 7 – "Sing Me a Song" – A deeper look at the Sanctuary and the world of the Saviours; members of Alexandria look for supplies.
Episode 8 – "Hearts Still Beating" – Negan's unwelcome visit to Alexandria continues as other members scavenge for supplies; things quickly spin out of control.
So that's what's coming before the end of 2016. After that The Walking Dead won't finish the rest of the season until sometime in early 2017.