Why Warren Beatty Turned Down 'The Godfather,' 'Superman,' And More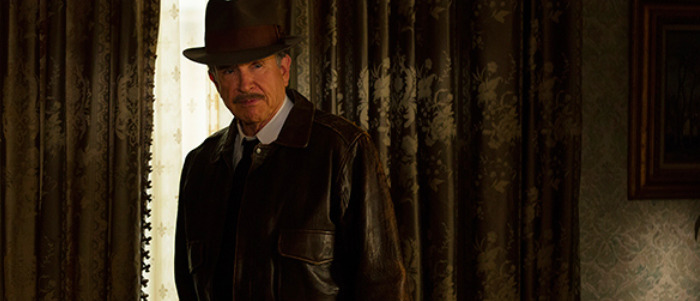 Warren Beatty considered playing roles as iconic as Clark Kent, Michael Corleone, and Jack Horner. The actor, writer, producer, and director, for various and understandable reasons, turned these parts down. The list of high-profile movies he's passed on could probably go on and on, but the actor, who returns with this month's Rules Don't Apply, recently discussed why he decided against starring in The Godfather, Superman, and more.
Below, learn why the actor turned down some now famous roles.
One of the many upsides of getting a new film from Beatty, and a pretty good one at that, is he's doing a surprising amount of publicity for it. He recently appeared on the Awards Chatter Podcast, but it was MTV's Happy Sad Confused podcast that asked the actor to recall a few jobs he passed on.
For starters, Beatty talked about getting the offer to produce, write, and direct The Godfather:
Before Francis [Ford Coppola] ever got involved with it, [Paramount head] Charlie Bluhdorn had commissioned the book to be written [into a screenplay]. I think he had paid $24,000 to Mario Puzo . And Charlie had liked Bonnie & Clyde a lot, and he sent it to me, and he said I could do whatever I wanted, produce, write it, direct. I read the galleys, and I said, 'Charlie, there's no movie here.'
Another movie Beatty couldn't imagine himself in was Richard Donner's Superman, which he also didn't think would ever happen:
I believe they came to me first with Superman and I didn't think they were actually going to make a movie...and I said, 'This is kind of ridiculous.' And so I said to my assistant, run out and get me some long underwear. So she brings back the long underwear, and I take off my pants — not in front of her, by the way — and put on the long underwear, and open the full-length mirror, and I went to the telephone and I said, 'Look, just forget about Superman, it ain't going to happen.' And then the movie was terrific.
The role of porn director Jack Warner was offered to a few notable names before Burt Reynolds, including Albert Brooks, Sydney Pollack, and Beatty. Beatty turned down the role for a personal reason:
I felt that I didn't want to do a movie about porn when I was having these kids, and that's probably a snobby....by the way, I think it's a very good movie. And PTA is a very, very good director
As for getting the offer to play Bill in Quentin Tarantino's Kill Bill movies, Beatty wasn't interested in leaving his family for the extent of the shoot:
I believe it was my suggestion that David Carradine would be best for it. I didn't want to leave my kids...He was shooting the movie in China, and I thought [Quentin was] going to be over there for a long time. And he said, no [it won't be that long]. In fact, he was over there for exactly the time that I predicted. (laughs) I would love to work with Quentin.
And a lot of people would probably still love to see Beatty work with Tarantino, and it's great to hear the selective actor is open to working with directors other than himself these days. When Beatty appeared on the Awards Chatter Podcast, it was unclear whether he's interested in acting for other filmmakers, but apparently, he is. As for some of those famous projects he turned down, it sounds like the director behind Reds, Dick Tracy, and Bulworth didn't lose any sleep over passing on them.
Rules Don't Apply opens in theaters November 23rd.