'Patriots Day' Early Buzz: Peter Berg Recreates Recent History Again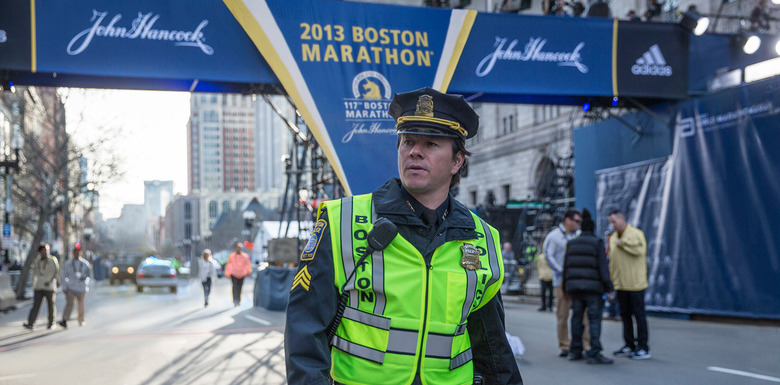 Perhaps still reeling from the sheer ridiculousness of Battleship, Peter Berg has devoted much of his past few years to recreating one all-too-real event after another. First there was Lone Survivor, and then there was Deepwater Horizon. Now, as the end of 2016 approaches, there's Patriots Day, about the 2013 Boston Marathon bombing and its immediate aftermath.
Berg's past two films earned critical praise for their grittiness, their intensity, and their attention to detail. Will Patriots Day be cut from the same cloth? The drama made its premiere last night and the first reactions are in. Get the Patriots Day early buzz below. 
In its final act, which explodes into the deadly standoff between the bombers and a bevy of law enforcement, Berg flexes his chops to deliver a shootout up there with "Heat" and "John Wick." The action is merciless, expertly choreographed — and as a result, energizing.
Berg was therefore wise to close out "Patriots Day" with real-life figures, who relay the severity of the toll the event had on their lives. To them, the bombings weren't the basis for an action film; their lives were forever altered because of them. And as Berg emphasizes by letting them tell their stories, we owe them a huge debt of gratitude and respect.
Berg's film is most effective when it recognizes that heroism doesn't come from bombastic shows of force or grand pronouncements, but the assured execution of a given task when the moment demands it most. The film's falsest moments come from characters seemingly convinced that their words will someday populate the pages of a Hollywood screenplay. Far more engaging are the cacophonous overlaps of investigative efficiency, when dutiful employees have only enough room to add their part to an ever-increasing flow of investigative information. Similarly, Atticus Ross and Trent Reznor's score does best when its digital pulse complements the natural hum of the tension on screen.
But "Patriots Day" is no rush-job TV movie; it's genuinely exciting megaplex entertainment, informed by extensive research, featuring bona fide movie stars, and staged with equal degrees of professionalism and respect — as suggested by the title, appropriated from the holiday on which the incident occurred. It's also a sober homage from Boston native Mark Wahlberg, who produced alongside "Deepwater Horizon" director Peter Berg, chasing an opportunity to chase that true-story energy that fueled their earlier 2013 collaboration "Lone Survivor."
Like the heroic Bostonians it celebrates, civilians and law enforcement both, Peter Berg's Patriots Day gets the job done. The director's second big-screen release of the year — and his third portrait of frontline heroism starring Mark Wahlberg, after Lone Survivor and Deepwater Horizon — the movie is, for Berg, a characteristically high-powered rendition of a real-world disaster that's still fresh in the collective memory. If nothing else, Berg proves himself a master of filmmaking efficiency; he made this technically complex action piece, which took its bow in the closing-night slot at AFI Fest, in a matter of months.
The tension that slowly builds as the inevitable finally happens is brilliantly wrought, with the score – provided by Trent Reznor and Atticus Ross – proving a swelling drone which creeps up and peaks in all the right places. Even though we're all aware that two bombs are going to explode, somehow, when they do, it's still a surprise. From there Berg holds his camera up to the carnage. Limbs are shown strewn across the finish line; legs are almost completely torn from bodies, and the camera which dwells on the body of an eight-year-old victim.
On a technical level, Patriots Day is a crackling action-thriller commemorating the 2013 Boston Marathon bombing and the subsequent manhunt to find the perpetrators. But that technical facility has such a dismayingly anonymous precision to it that, rather than mourning those who were killed or maimed in this unconscionable act of terror, the film begins to feel like a soulless, mechanical exercise in pure kinetic showmanship.
It does no disservice to the cast of "Patriots Day" to note that the film's most undeniably powerful moments come at the end, when we see footage of the real-life victims who were injured and killed in the 2013 Boston Marathon bombing. Would this movie have been more powerful as a documentary? Quite possibly. Does it work as a narrative? For the most part, yes.
Patriots Day gets a limited release December 21 before going wide January 13. Mark Wahlberg, Michelle Monaghan, J.K. Simmons, Kevin Bacon, and John Goodman star.