'Doctor Who' 2016 Christmas Special Is Coming To Theaters In December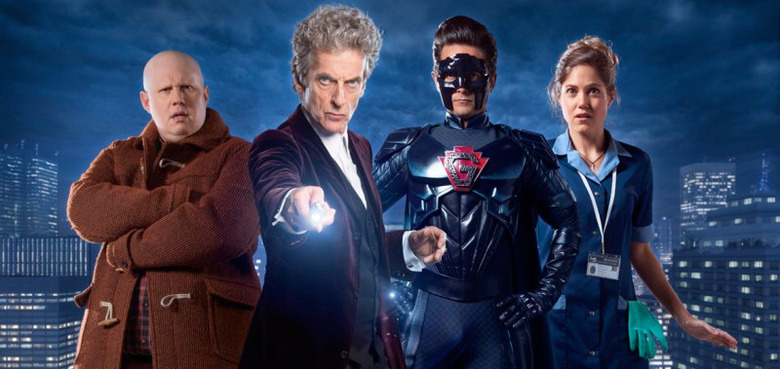 For Doctor Who fans, having a Christmas special featuring their favorite time traveler is one of the best things about the holiday season. Thankfully, the Doctor Who 2016 Christmas special is on the way, and it even has a superhero twist for all you comic book movie fans out there. The special is called The Return of Doctor Mysterio and it's just been revealed to get a theatrical release here in the United States.
Get the details on the Doctor Who 2016 Christmas Special in theaters after the jump.
BBC Worldwide North America and Fathom Events announced that Doctor Who: The Return of Doctor Mysterio will be their final theatrical event of the year with showings on two nights. You can catch the holiday special on Tuesday, December 27 or Thursday, December 29 at 7pm local time on both days.
For this Christmas special, Peter Capaldi returns as Doctor Who, and this time he has to team up with an investigative journalist, played by Charity Wakefield (Wolf Hall, The Player) and a superhero to save New York from a deadly alien threat. Here's hoping that there isn't some kind of portal in the sky that he has to stop from destroying the world, because we've gotten enough of that lately.
In addition to Capalid and Wakefield, the rest of the cast includes Justin Chatwin (Shameless) as Grant, along with Matt Lucas (Alice in Wonderland), Adetomiwa Edun (Lucifer), Aleksandar Jovanovic and Logan Hoffman, all under the direction of Ed Bazalgette (Poldark).
If the 60-minute episode of Doctor Who isn't enough for you to buy a ticket, you'll also get to see two exclusive bonus features, "A New Kind of Superhero," which offers a special inside look at Doctor Who's concept of a modern superhero, and a special "Christmas Doctor Who Extra," which shows off the making of this year's special.
Fathom Events Vice President of Programming Kymberli Frueh says, "Doctor Who fans are one of our most dedicated audiences, and we expect they will show up in full force for this holiday special. There's no better way to enjoy this content than on the big screen and among fellow fans." If you want to prove her right, find the nearest local theater hosting the event at the Fathom Events website and buy your tickets today.
Doctor Who: The Return of Doctor Mysterio will premiere on Christmas day on BBC1 in the United Kingdom and BBC America in the US and will be followed by this theatrical event just days later. Otherwise, the 10th season of Doctor Who premieres on BBC and BBC America in April 2017.