Listen To Emma Stone & Ryan Gosling's Wonderful 'La La Land' Duet "City Of Stars"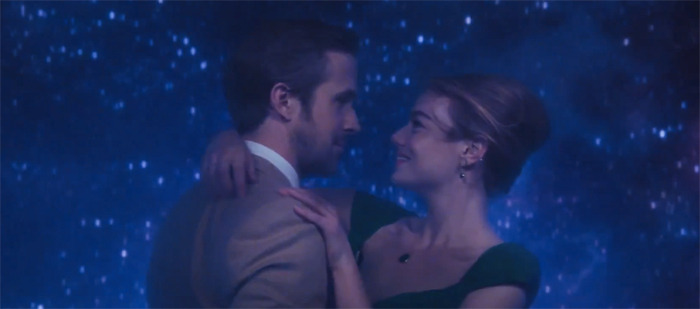 As we're winding down to the end of the year, there are still plenty of great movies to see in theaters, especially films that are looking for some awards attention early next year. One of those films also just happens to be one of my most anticipated movies of the year, and now we get a wonderful new piece of it.
The first song from the modern musical La La Land has just debuted online, and it's a beautiful duet titled "City of Stars" sung by the film's stars Ryan Gosling and Emma Stone. It has a classic feel to it, and there are some beautiful moments that feel very candid and natural, helped by the fact that it doesn't sound like a super polished studio recording.
Listen to the La La Land song "City of Stars" after the jump, and if you're lucky, you might just see some new footage from the movie as well.
If that's not enough to tickle your musical bone today, then maybe some new footage from La La Land will lift your spirits. You might be wondering why we're not leading with the fact that there's a new international La La Land trailer, and that's because Lionsgate took down one of the YouTube videos of the trailer in question due to a copyright violation.
Thankfully, someone else has an HD version of the trailer that's still available out there at the time of this writing, so if you've been waiting for more footage from La La Land, this is for you:
This movie looks positively stunning and just plain lovely. I can't wait to see all the musical sequences and hear the original songs from Damien Chazelle's follow-up to the outstanding Whiplash. The director has already shown that he has a love for music and how it interacts with his visuals, and this film should further illustrate that beautifully.
You can see more in the previous La La Land trailer right here. Otherwise, here's the synopsis for La La Land from the Toronto International Film Festival:
A devotee of the jazz legends Bud Powell and Thelonious Monk, Sebastian (Ryan Gosling) plays a mean piano himself and is determined to uphold the values of the old masters. His plans include opening his own club, but to make ends meet he's stuck playing tepid cocktail jazz in a humdrum Los Angeles restaurant. Mia (Emma Stone) is a movie buff with an eye for the classics who aspires to be a serious actress. For the moment, the closest she comes to seeing stars is serving lattes in the canteen on the Warner Bros. lot.
Sebastian and Mia meet cute no less than three times before diving headlong into a life-altering romance, but is their love strong enough to weather disappointment, compromise, and ever-burgeoning periods apart?
La La Land gets a limited release on December 2 and goes wide on December 16.