'Rogue One' Featurette: See New Footage From The "World's Greatest Toy Set"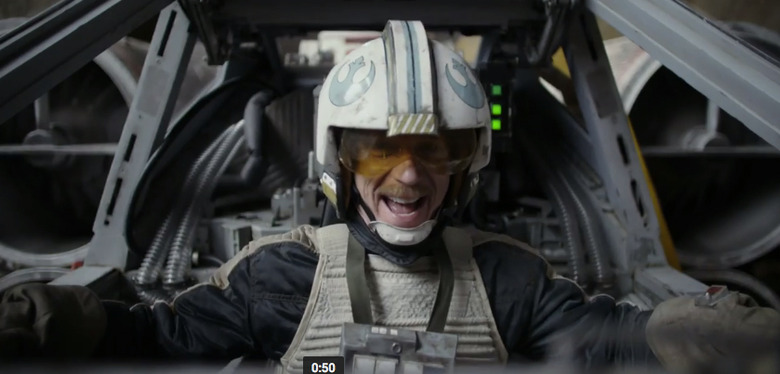 As if we didn't have enough new footage from Rogue One: A Star Wars Story popping up in international trailers and TV spots, an all-new featurette gives us a new look behind the scenes along with insight from director Gareth Edwards and cast members like Felicity Jones and Diego Luna. However, I will say that if you have seen all the footage you want from the movie, then I would avoid this featurette for the time being. Otherwise, watch the new Rogue One featurette after the jump.
There are a few snippets of recycled footage from the featurette that debuted at Star Wars Celebration earlier this year, but most of the on-set shots we see are completely new, including some gorgeous slow-motion action shots.
Beyond that, another focus of this Rogue One featurette is showing how accurately the movie is recreating the production design and art direction of the original Star Wars, which makes sense since we're leading up to the events of that episode in this spin-off.
But perhaps even more important is that this featurettte seems to be a way to explain what exactly this movie is for general audiences who may understand what the "A Star Wars Story" moniker means in the grand scheme of the universe, or why we're seeing yet another Death Star, even though that's not exactly the case. And with that comes glimpses of all that new footage that we haven't seen in any of the trailers up until now.
From Lucasfilm comes the first of the Star Wars standalone films, "Rogue One: A Star Wars Story," an all-new epic adventure. In a time of conflict, a group of unlikely heroes band together on a mission to steal the plans to the Death Star, the Empire's ultimate weapon of destruction. This key event in the Star Wars timeline brings together ordinary people who choose to do extraordinary things, and in doing so, become part of something greater than themselves.
Rogue One: A Star Wars Story" is directed by Gareth Edwards and stars Felicity Jones, Diego Luna, Ben Mendelsohn, Donnie Yen, Mads Mikkelsen, Alan Tudyk, Riz Ahmed, with Jiang Wen and Forest Whitaker. Kathleen Kennedy, Allison Shearmur and Simon Emanuel are producing, with John Knoll and Jason McGatlin serving as executive producers.
Rogue One: A Star Wars Story hits US theaters next month on December 16.