It's Jennifer Lawrence Versus Gravity In The First 'Passengers' Clip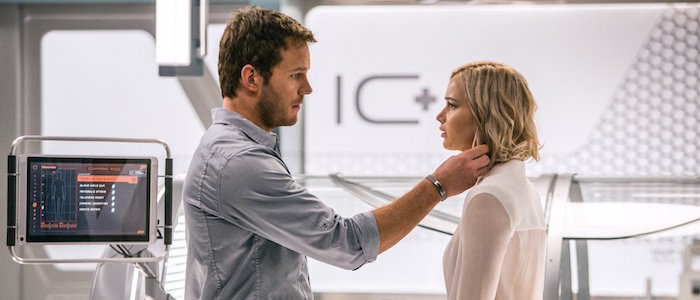 It's a grand tradition for the first clip released from an upcoming movie to be an odd choice, selected for reasons that we mere mortals cannot comprehend. This applies to the first Passengers clip, which feels like it was selected by a computer program that searched the film for keywords like "Jennifer Lawrence," "special effects set piece," and "bathing suit." So here you go: the first clip from Morten Tyldum's upcoming science fiction tale involves Jennifer Lawrence in a bathing suit attempting to survive during a big special effects set piece.
The footage debuted over at Entertainment Weekly's Facebook page and like so many early clips, it feels like it's been cut to ribbons and probably isn't indicative of how the scene will actually play out in the finished film. Still, it does give us an idea of the kind of left-field threats Aurora Dunn (Lawrence) and Jim Preston (Chris Pratt) will face after a mechanical failure wakes them up from cryogenic sleep in the middle of a 120-year journey into deep space aboard a colony ship. The trailers promise all kinds of massive, CGI mishaps and adventures. This clip reveals just how deadly a swimming pool can be when your spaceship loses gravity.
The thought of drowning in a spaceship decades from earth is unnerving stuff, especially since a gravity free environment removes the concept of up and down from the equation. Watching Lawrence struggle to find her way out of that water gave me flashbacks to some of the more intense moments in Gravity...which is, quite frankly, probably the comparison they were hoping for with the sequence.
I know a lot of people aren't won over by the trailers for Passengers, but I stand by its high place on our most anticipated films of the fall list. Jon Spaihts' screenplay has been widely praised since it laded on the Black List of best un-produced screenplays back in 2007, Pratt and Lawrence is the kind of old-school movie star romantic pairing that makes my head spin, and it's a big-budget science fiction movie that isn't a sequel or intended to start a larger franchise. That's more than enough to get me excited to check this one out.
Passengers is set to touch down on December 21, 2016.