'A Series Of Unfortunate Events' Trailer: Neil Patrick Harris Hates The Baudelaire Children So Much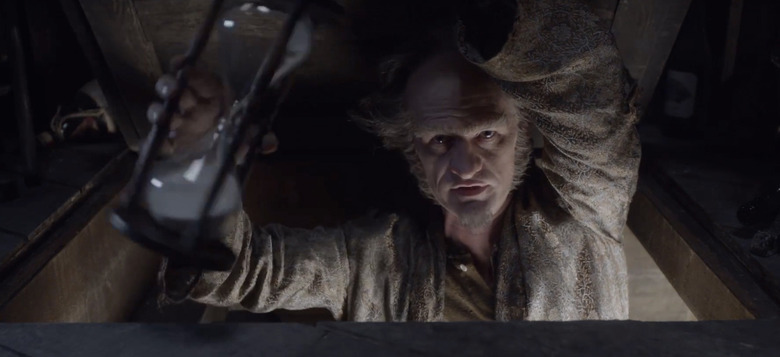 As promised, a new trailer for Lemony Snicket's A Series of Unfortunate Events has debuted in anticipation of the Netflix series adaptation coming exclusively to the streaming service in January. And it's clear that the series of books by Daniel Handler will be getting the adaptation they deserve, unfolding so many more of the mysteries at the heart of the story about the orphaned Baudelaire children, their secretive parents and their cavalcade of friends, and the conniving Count Olaf.
Watch the new Lemony Snicket's A Series of Unfortunate Events trailer after the jump.
As we've seen previously, the visual style very closely echoes what we saw in the feature film adaptation from 12 years ago. But that appears to just be in an attempt to bring the visuals of the books to life as accurately as possible. The one key difference in visual style this time is there appears to be a sort of miniature model aesthetic applied to the establishing shots of various structures, vehicles and other exterior elements. But if this is a choice made due to budget constraints, the style actually fits quite well with the rest of the series.
As of now, the only part I'm still skeptical about is Neil Patrick Harris. I want to give him the benefit of the doubt, because he's a very enthusiastic and charismatic actor clearly putting everything he's got into this role. But I just can't get past the fact that his voice doesn't sound remarkably different from his real voice. Even when he's doing Captain Sham, it doesn't sound convincing. Jim Carrey disappeared into Count Olaf, but I'm not getting that vibe from Harris in the footage we've seen so far.
In addition to Neil Patrick Harris as Count Olaf, the series also stars Malina Weissman, Louis Hynes and Presley Smith as Violet, Klaus and Sunny Baudelaire respectively. The rest of the supporting cast includes Patrick Warburton as narrator and fictional author Lemony Snicket, Joan Cusack as Justice Strauss, Alfre Woodard as Aunt Josephine, Catherine O'Hara as Dr. Orwell, K. Todd Freeman as Mr. Poe, Aasif Maandvi as Uncle Monty, Don Johnson as Sir and more.
Lemony Snicket's A Series of Unfortunate Events hits Netflix in January 13, 2017.
Based on the internationally best-selling series of books, Lemony Snicket's A Series of Unfortunate Events chronicles the turbulent lives of Violet, Klaus, and Sunny Baudelaire after their parents' untimely death in a fire. A careless oversight initially places the children in the custody of a distant relative named Count Olaf, a mysterious and devious figure who is seeking fortune by way of stealing their inheritance. After his elaborate plans are foiled and his evil intentions are revealed, Count Olaf (Neil Patrick Harris) employs a variety of outlandish disguises to situate himself in the children's path, causing mayhem for the Baudelaire's and their subsequent guardians.  As the children manage to evade Count Olaf's scheming attempts to steal their fortune, they pick up clues along the way about their parents' past.