'The Zookeeper's Wife' Trailer: Jessica Chastain Saves Lives During World War II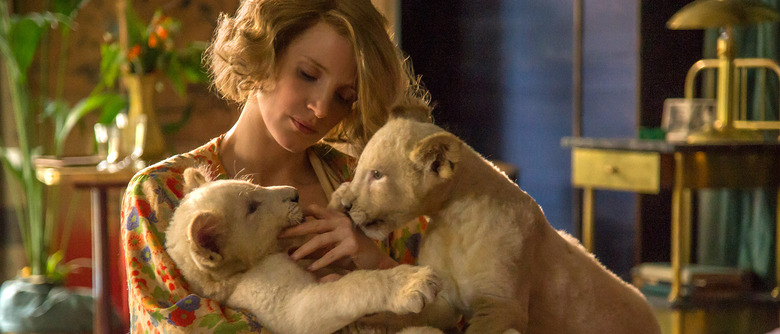 Focus Features has unveiled the first trailer for The Zookeeper's Wife, the based-on-a-true-story World War II drama from Niki Caro (Whale Rider). Jessica Chastain and Johan Heldenbergh star as Antonina Zabinska and Jan Zabinski, who run a zoo in Warsaw. When Poland is invaded by Nazis, the couple heroically work with the Resistance to secretly shelter Jews who've escaped from the Warsaw ghetto — right under the nose of the Reich's chief zoologist, played by Daniel Brühl.
Watch The Zookeeper's Wife trailer below.
The Zookeeper's Wife Trailer
I'm a little surprised The Zookeeper's Wife isn't a fall or winter release. Between that prestige-pic pedigree and that very serious subject matter, it seems like it'd fit in right alongside all the other Oscar hopefuls that come out toward the end of the year. But it looks quite good no matter what time of year it comes out. No surprise Chastain, Brühl, and Heldenbergh (whom you should really watch in The Broken Circle Breakdown if you haven't already) all seem to put in fine work here, and the story itself looks dramatic and moving in the best way. Plus, it's got Jessica Chastain cuddling up with cute baby lions. What's not to love?
The Zookeeper's Wife is in theaters March 31, 2017.
The real-life story of one working wife and mother who became a hero to hundreds during World War II. In 1939 Poland, Antonina Zabinska (portrayed by two-time Academy Award nominee Jessica Chastain) and her husband, Dr. Jan Zabinski (Johan Heldenbergh of "The Broken Circle Breakdown"), have the Warsaw Zoo flourishing under his stewardship and her care. When their country is invaded by the Nazis, Jan and Antonina are stunned – and forced to report to the Reich's newly appointed chief zoologist, Lutz Heck (Daniel Brühl of "Captain America: Civil War"). To fight back on their own terms, Antonina and Jan covertly begin working with the Resistance – and put into action plans to save lives out of what has become the Warsaw Ghetto, with Antonina putting herself and even her children at great risk.