'Blue Crush' TV Show In The Works From NBC And Producer Brian Grazer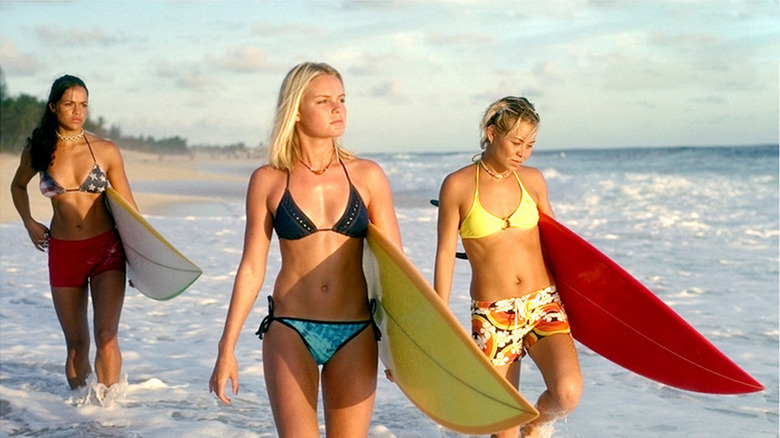 Blue Crush has its fans. A lot of them, I'd wager. The film performed well enough when it was released in 2002, but it became more popular when it hit home video. Around five years ago a direct-to-video sequel was made by Universal. Beyond the title and surfing, though, Blue Crush 2 has little to do with John Stockwell's film. Screenwriter Lizzy Weiss and producer Brian Grazer weren't involved in the sequel. However, they are developing the Blue Crush television series.
Below, learn more about the Blue Crush TV show.
Deadline reports NBC has given the series a script commitment with penalty, which means if the pilot doesn't air as special or series, the network will have to pay a penalty to the studio. Lizzy Weiss, whose first commission as a screenwriter was Blue Crush, is writing and executive producing the pilot. Her script was based on Susan Orlean's (The Orchid Thief: A True Story of Beauty and Obsession) article "Life's Swell," but whether the show will closely follow the plot of the movie is unknown.
Blue Crush is a little thin at times. There's a very redundant romance, but the movie is kinda charming and comfortingly fluffy, especially when it focuses on the three best friends – Anne Marie (Kate Bosworth), Eden (Michelle Rodriguez) and Lena (Sanoe Lake) — and their love for each other and, of course, surfing. Anne was once on the rise in the world of women's surfing, but a near-death experience leaves her frightened of competing again. Blue Crush is about her trying to overcome her fears and get back out on the waves again, while also looking out for her 14-year-old sister and managing to pay the bills.
A story set in Hawaii's North Shore about a group of young, surfing-loving friends has potential. The joy of seeing some gorgeous locations and cool waves aside — a definite draw of the 2002 film — there are always more stories to tell about surf culture. The movie could've explored more of that world, but maybe the show will allow Weiss to do so.
Weiss, who last created Switched at Birth, can hopefully put together a charming enough cast and group of friends for the Blue Crush television show. That's something the movie has going for it, and checking in with a charismatic group of friends who surf in Hawaii sounds like an actual show worth watching, not just another one of the many, many head-scratching film-to-TV adaptations we've heard about in recent years. There's certainly nothing sacrilegious about attempting to do something new with Blue Crush.