Forest Whitaker Joins Johnny Depp In 'Labyrinth'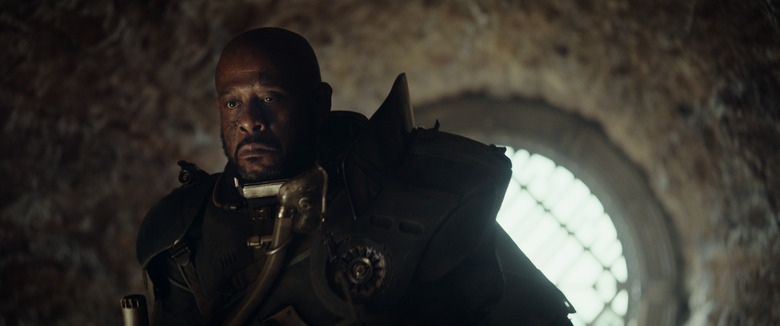 This is a fine year for Forest Whitaker. We recently saw him in the fantastic Arrival, not too long ago he signed up for Ryan Coogler's Black Panther, and he has Rogue One: A Star Wars Story coming up. The more we see of the actor, producer, and director, the better, so it's good to hear he's added another intriguing project to his slate. Whitaker will star in director Brad Furman's (The Lincoln Lawyer) LAbyrinth, a true story about the detective who investigated the murders of Tupac Shakur and Notorious B.I.G.
Below, learn more about the Forest Whitaker Labyrinth casting.
Production begins this month on LAbyrinth, which is based on journalist Randall Sullivan's novel "LAbryinth: A Detective Investigates the Murders of Tupac Shakur and Notorious B.I.G., the Implication of Death Row Records' Suge Knight, and the Origins of the Los Angeles Police Scandal." According to Deadline, Whitaker will star alongside Depp in The Infiltrator director's new film.
Depp, presumably without making any wild alterations to his appearance, is playing Russell Poole. Poole investigated the unsolved murders of Tupac and Biggie in the late 1990s. Although the LAPD detective ran into a series of dead ends, he did expose corruption in the Los Angeles Police Department. The film is set many years after Poole didn't solve the case. In the film, the former detective and a journalist (Whitaker) will once again search for the truth.
Despite the recent headlines Depp made and a few notable box-office misses, LAbyrinth was pegged as a hot project for buyers at this year's Toronto International Film Festival. Open Road Films snatched up the domestic distribution rights. Since Furman starts shooting his next film soon, a 2017 release sounds possible, but we'll have to wait and see on a release date.
Here's the synopsis for Sullivan's novel:
Acclaimed journalist Randall Sullivan follows Russell Poole, a highly decorated LAPD detective who in 1997 was called to investigate a controversial cop-on-cop shooting, eventually to discover that the officer killed was tied to Marion "Suge" Knight's notorious gangsta rap label, Death Row Records. During his investigation, Poole came to realize that a growing cadre of black officers were allied not only with Death Row, but with the murderous Bloods street gang. And incredibly, Poole began to uncover evidence that at least some of these "gangsta cops" may have been involved in the murders of rap superstars Notorious B.I.G. and Tupac Shakur. Igniting a firestorm of controversy in the music industry and the Los Angeles media, the hardcover publication of LAbyrinth helped to prompt two lawsuits against the LAPD (one brought by the widow and mother of Notorious B.I.G., the other brought by Poole himself) that may finally bring this story completely out of the shadows.