Robert Downey Jr. Making Directorial Debut With 'Singularity', Starring Anthony Michael Hall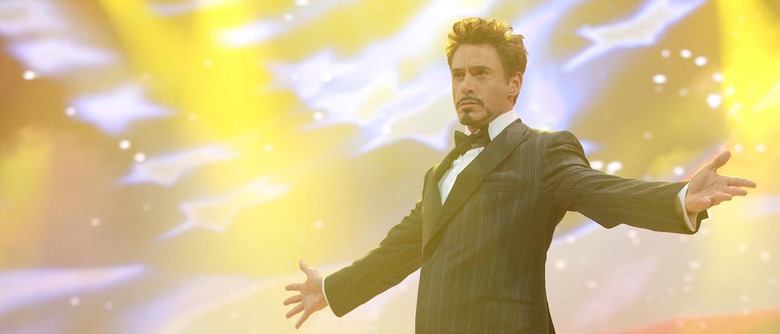 After over thirty years in Hollywood, Robert Downey Jr. is ready to branch out into the next phase of his career: directing. Downey is set to make his debut on Singularity, a TV pilot featuring his Weird Science co-star Anthony Michael Hall. Downey and his wife Susan Downey are also producing through Team Downey Productions.
Team Downey announced Singularity as part of their first-look deal with Sonar Entertainment (via TheWrap). Details on Singularity are still under wraps, but with the high-profile talent on board we can probably expect to learn more before too long.
Although Downey has been starring in movies since the 1980s, and although he's worked with some fantastic filmmakers including David Fincher, Oliver Stone, and Robert Altman, he's only recently begun to take on bigger roles behind the scenes. 2014's The Judge was the first project to come out of Team Downey, which he and Susan formed in 2010. Other projects in development from the company include Sherlock Holmes 3, a Perry Mason TV series for HBO, and a movie adaptation of the Black Mirror episode "An Entire History of You."
Now that Downey's jumped headfirst into producing, directing seems like an exciting next step. Lots of Hollywood stars try their hand at directing eventually, some with more success than others, and a TV pilot seems like a good place to start. Especially since Downey and Hall go way back — in addition to Weird Science, they have worked together in 1988's Johnny Be Good and 1994's Hail Caesar (not to be confused with 2016's Hail, Caesar!), as well as the 1985-1986 season of Saturday Night Live.
When Singularity will get going isn't clear. Downey's currently quite busy, with Avengers: Infinity War shooting soon and Sherlock Holmes 3 on his to-do list sometime after that. Hall will be seen later this year in Ben Affleck's Live by Night, and next year in David Michôd's War Machine.