See The New 'Beauty And The Beast' Trailer Compared To The Original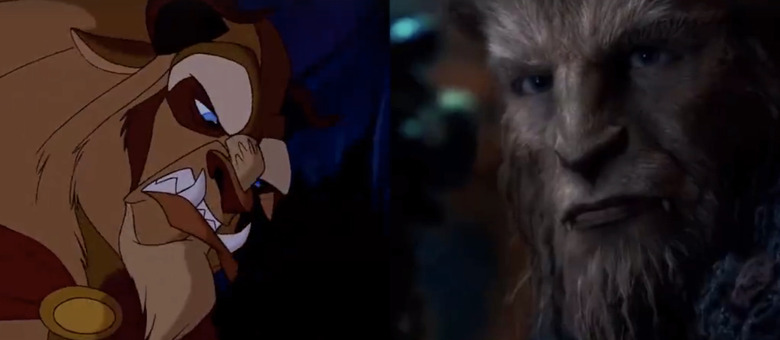 This week brought the first trailer for the live-action adaptation of Disney's Beauty and the Beast, and fans of the original animated movie from 1991 couldn't wait to see how it turned out. In fact, so many of them watched the trailer in the first 24 hours that it ended up breaking a world record. But we'll get to that after the jump.
In addition, one of the fans who can't wait to see the new Beauty and the Beast decided to take the trailer and line it up with footage from the original animated movie. After you watch it, you'll see just how perfectly the live-action movie emulates the modern classic.
Watch the Beauty and the Beast trailer comparison and find out what record the trailer broke after the jump.
There are some shots and moments that are lifted directly from the animated movie, which is to be expected. But there will undoubtedly be changes as well, so we shouldn't expect this to be a carbon copy of the original movie. Still, this feels like a very loyal adaptation, and it's kind of eerie how well the audio of the new trailer works with certain parts of the animated footage.
As for the record that the Beauty and the Beast remake trailer broke, it now holds the record for the most views around the world (with the exception of China) in the span of 24 hours. After its debut online, the trailer was viewed 127.6 million times, more than any other trailer in history. The previous record holder was Fifty Shades Darker which had 114 million views in 24 hours, and before that it was Star Wars: The Force Awakens with 112 million.
This isn't the first time Beauty and the Beast has set a record for trailer views, because back in May, the teaser trailer for the movie was viewed 91.8 million times, beating the record set by the Star Wars: The Force Awakens teaser trailer at 88 million views.
Helping the new trailer this time was a post of the video on Emma Watson's fan page, which resulted in 27 million views. Plus, a Facebook Live session featuring the actress and co-stars Dan Stevens (who plays the Beast), Luke Evans (Gaston), Josh Gad (Lefou), and director Bill Condon helped get some more people to check out the video.
The amount of excitement and buzz surrounding this movie, which no one has even seen yet, feels huge. I wouldn't be surprised if this turns out to be one of Disney's biggest movies ever, likely rivaling the box office of Pixar, Star Wars and Marvel movies.