'Sesame Street' Movie In The Works At Warner Bros.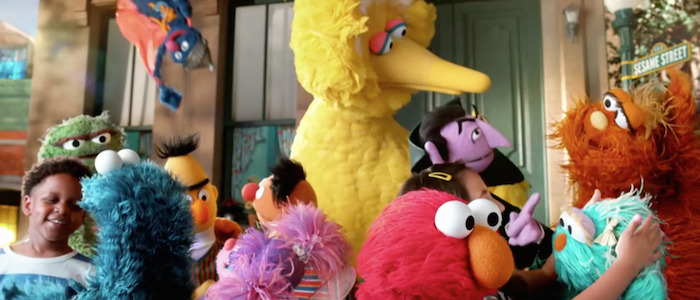 The way to Sesame Street will soon run through your local theater. Warner Bros. is moving ahead with a Sesame Street movie, setting Night at the Musuem: Secret of the Tomb scribes David Guion and Michael Handelman to write the script. Shawn Levy, whose recent producing credits include Denis Villeneuve's Arrival and Netflix's Stranger Things, will produce. 
Deadline reports the latest on the Sesame Street movie. The project is in the early stages yet, with Guion and Handelman just now getting ready to write a treatment. Michael Aguilar (The Departed) and Entertainment 360's Guymon Casady (Game of Thrones) will produce along with Sesame Workshop. Mark Gordon (Gray's Anatomy) is executive producing.
Guion and Handelman have worked with Levy on Night at the Museum: Secret of the Tomb, which Levy directed. The pair's other screenwriting credits include Dinner for Schmucks and The Ex. In addition, they've got a few other comedies in various stages of development including The Understudy, which has Will Ferrell attached to star as a Shakespearean actor.
Although Sesame Street has been a staple of children's television for nearly half a century, it hasn't been nearly as prominent a presence on the big screen. Sesame Street has released two feature films before, 1985's Follow That Bird and 1999's The Adventures of Elmo in Grouchland, and it's inspired several documentaries including I Am Big Bird: The Caroll Spinney Story and Being Elmo: A Puppeteer's Journey.
Sesame Street recently went through a big behind-the-screens shakeup. After spending nearly its entire existence on PBS, it moved over to HBO (which, like Warner Bros., is part of the Time Warner family). The news was met with some unhappiness from longtime fans, but you won't need an HBO subscription to watch new episodes, just a lot of patience — they'll air on PBS nine months after their first run on HBO.The first Sesame Street trailer from HBO indicated that the new home wouldn't change the beloved series too much, and the development of a Sesame Street movie looks like a promising sign that the show's new bosses plan to make the most of this property. Let's just hope they won't screw it up.