VOTD: Kristen Wiig & 'Saturday Night Live' Cast Take On The Mannequin Challenge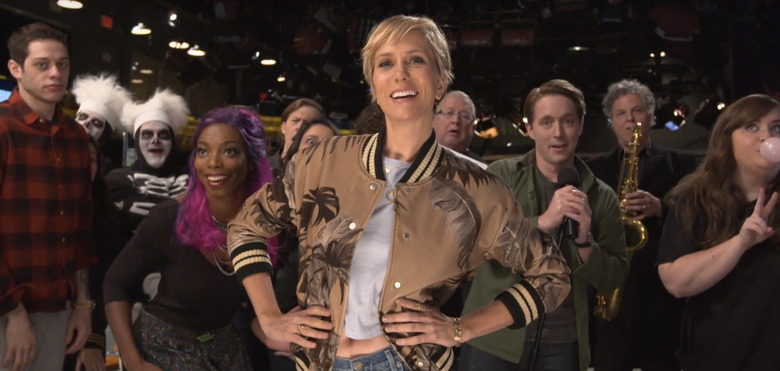 Just as the Harlem Shake and the Ice Bucket Challenge took the internet by storm, the latest online video craze is The Mannequin Challenge. In these videos, a group of people stand still like lifeless mannequins as a camera elaborately sweeps in between them. The effect is rather eerie and occasionally unsettling, but it's also the perfect bit of fun for people who work in the entertainment industry to take advantage of.
The cast and crew of A Wrinkle In Time recently completed their own Mannequin Challenge video as a way to announce their release date, and now the cast of Saturday Night Live has done the same along with former cast member and this weekend's host Kristen Wiig. Not only is the video very cool, but the skeletons from the popular David S. Pumpkins sketch are definitely part of it.
Watch the Saturday Night Live Mannequin Challenge after the jump.
It looks like the crew of Saturday Night Live really went the extra mile for this one, creating special props that make it look like liquids are spilling here and there. Plus, in addition to the b-boy skeletons, we also see Kate McKinnon's recurring character who has now survived an alien encounter and a near-death experience enjoying a cigarette on set. Does that mean she'll be coming back this episode, or was this just a fun appearance like the skeletons?
We'll find out when Kristen Wiig returns to host Saturday Night Live on November 19, and we'll have a recap of the best and worst sketches the morning after.
Also, if you want to check out another extremely impressive Mannequin Challenge video, check out this one from comedian Dane Cook featuring the entire audience at one of his comedy shows.