'Justice League Dark' Trailer: The New R-Rated DC Animated Movie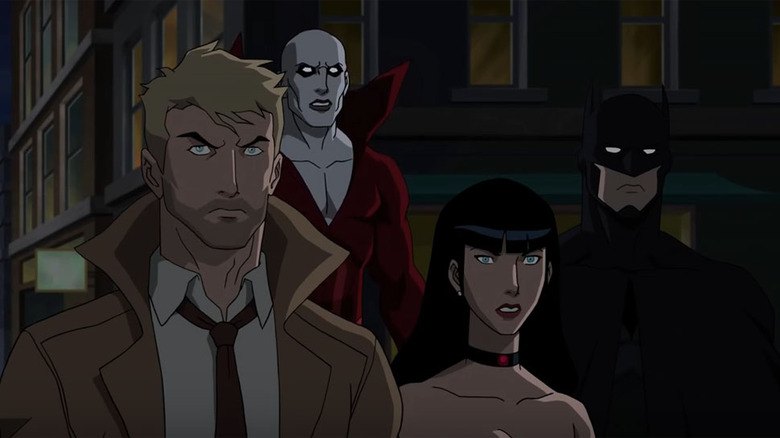 Years ago we heard Warner Bros. was interested in making a Justice League Dark movie. Director Guillermo del Toro spent a few years developing the comic book film, but it ultimately ended up in the capable hands of Doug Liman (Edge of Tomorrow). That movie appears closer to happening than ever, but before we see Constantine, Swamp Thing, Deadman, Zatanna, and Etrigan the Demon in Liman's film, which Warner Bros. wants to begin shooting early next year, they'll try to save the world in the next DC Universe Animated Original Movie.
Below, watch the Justice League Dark trailer.
Following the success of Batman: The Killing Joke – which fans appeared divided on – Justice League Dark is the new R-rated DC universe animated film. From director Jay Oliva (Batman: The Dark Knight Returns) and writers J.M. DeMatteis and Ernie Altbacker (Green Lantern: The Animated Series), Justice League Dark shows the team assembling when Batman and the Justice League are unable to save the world from supernatural forces.
The film features a strong voice cast. Rosario Dawson (Wonder Woman), Jerry O'Connell (Superman), Jason O'Mara (Batman) return to roles they've previously voiced. They're joined by Alfred Molina (Destiny), Jeremy Davies (Ritchie), Camilla Luddington (Zatanna), Nicholas Turturro (Deadman), Ray Chase (Etrigan), and Enrico Colantoni (villain Felix Faust). Roger R. Cross voices both Swamp Thing and John Stewart, while Matt Ryan is once again playing John Constantine after starring in the short-lived television show.
Here's the Justice League Dark trailer (Source: IGN):
This is obviously a safe-for-work trailer, but the animated feature is R-rated for "disturbing violence," of which we should expect a decent amount, based on what Oliva has said about the film. "My main goal was to make a horror movie with superheroes in it," the director told IGN. "That's basically what we're doing. There's still action. It's more like action-horror than anything, but we tried to have some scares, and make it feel different from what we've done in the past." With Justice League Dark, Oliva can show new, darker, and stranger corners of the DC Animated Universe. Let's hope the animated feature lives up to its potential in that regard.
Here's the synopsis for Justice League Dark:
Justice League Dark finds the world under attack from supernatural forces that prompts the Justice League's Batman to seek aid from occult investigator John Constantine. Constantine forms a team of other supernatural superheroes — Swamp Thing, Deadman, Zatanna, and Etrigan the Demon — to help save the world.
Justice League Dark is available to rent or purchase in early 2017.