Matt Damon Will Reprise His 'Ocean's Eleven' Role In 'Ocean's Eight'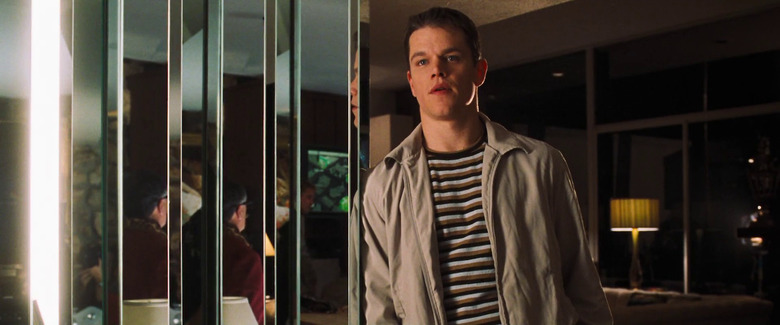 The cast of Ocean's Eight looks pretty great as it is, with Sandra Bullock, Cate Blanchett, Helena Bonham Carter, Anne Hathaway, Rihanna, and more all set to star. But it looks like yet another big star could stop in for a visit. Matt Damon, who starred in Steven Soderbergh's Ocean's Eleven trilogy, has let slip that he'll be shooting a small part in the upcoming spinoff. 
ET got the details on the Matt Damon Ocean's Eight cameo when they caught up with him at the red carpet premiere for Manchester by the Sea. "I'm doing a little bit in the movie," he said of Ocean's Eight. "I haven't read it yet, but the cast is phenomenal and I'm excited to see what those women do with it. It's going to be fun."
Directed by Gary Ross from a script he wrote with Olivia Milch, Ocean's Eight centers around an elaborate heist staged at the annual Met Gala. The film is set in the same "universe" as Soderbergh's earlier Ocean's films, with Bullock playing a relative of Clooney's charismatic thief character Danny Ocean. Damon starred alongside Clooney, playing pickpocket Linus Caldwell. It's unclear whether he'll be reprising that role for Ocean's Eight, or playing a different character entirely.
Ross has said Ocean's Eight would be "very much an extension and a continuation" of Soderberg's movies, describing his movie as having "a pretty similar tone." In fact, he worked pretty closely with Soderbergh in crafting the new film. "We discuss the cinema a lot, the shooting style, the rhythm, the editing style, and the music. We discuss it all," he said. "I'm in no way trying to reinvent the tone, and I'm thrilled and honored to be extending it. It's really fun to work with."Sarah Paulson, Mindy Kaling, Dakota Fanning, and Awkwafina also star. Ocean's Eight lands in theaters June 8, 2018.