'The Secret Scripture' Trailer: Rooney Mara Navigates Love & Tragedy In 1940s Ireland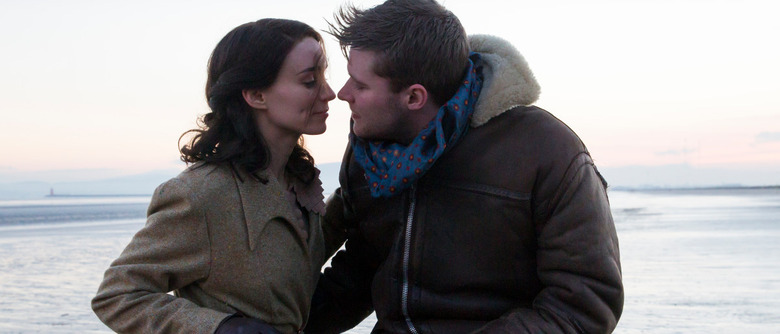 Rooney Mara has had a very busy fall, with not one, not two, but three separate films playing at TIFF. Today we've got the trailer for one of them, Jim Sheridan's The Secret Scripture.
Based on the acclaimed novel by Sebastian Barry, The Secret Scripture chronicles the loves and losses of a young woman named Rose (Mara) in 1940s Ireland. She's caught the attention of several men in town including the local priest (Divergent's Theo James), but has eyes only for a dashing fighter pilot (Sing Street's Jack Reynor). What unfolds next explains why, 40 years later, she's in an insane asylum (Vanessa Redgrave plays the older Rose) where she is being interviewed by a psychologist (Eric Bana).
Watch the Secret Scripture trailer below.
The Secret Scripture Trailer
Despite the fantastic cast and the pedigreed source material, The Secret Scripture drew mixed to negative reviews at TIFF. TheWrap particularly disliked it, writing, "The ending of this movie is monumentally, historically, even catastophically bad. Its big reveal is so mind-numbingly asinine that it nearly retroactively erases any intelligence you may have had before watching this movie. Yes, it's that agonizing."
One the flip side, THR was warmer toward the movie, reporting, "Rooney Mara and Theo James deliver their most richly nuanced screen work to date in the drama, a memory piece whose true subject is Ireland's tangled, bloody history and the Church's toxic paternalism toward women."
Like the trailer says, "two stories: which do you believe?" Do you think The Secret Scripture sounds worth a shot, or not? Either way, you'll probably have plenty of time to decide as the film does not yet have a U.S. release date.
Here's the synopsis from TIFF:
Roseanne McNulty (Redgrave) must vacate the soon-to-be demolished mental institution in Roscommon, Ireland that she's called home for over 50 years. The hospital's psychiatrist, Dr. William Grene (Bana), is called in to assess her condition. He finds himself intrigued by Roseanne's seemingly inscrutable rituals and tics, and her fierce attachment to her Bible, which she has over the decades transformed into a palimpsest of scripture, drawings, and cryptic diary entries. As Grene delves deeper into Roseanne's past, we see her as a young woman (Mara), whose charisma proves seductive. We learn that she moved to Sligo to work in her aunt's café, fell in love with a dashing fighter pilot (Reynor, also at the Festival in Free Fire), and that a local priest (Theo James) fell tragically in love with her.