Matt Damon & Liam Neeson Feel The Need For Speed In 'Isle Of Man' Motorcycle Racing Drama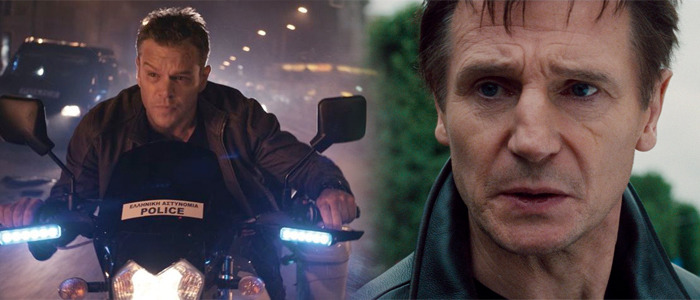 UPDATE: A representative for the film's producers has reached out to us to say that Matt Damon is not involved in the project. They're not sure where the source of this story from Honda got this information, but it's not accurate. No word on whether Liam Neeson is in the movie or not. Our original story follows.
During the Toronto International Film Festival in September, it was reported that Bleed for This director Ben Younger had lined up his next project in the form of Isle of Man, a motorcycle racing drama chronicling the titular dangerous event that takes place on the island of the same name in the Irish Sea between England and Ireland. Now it seems the project has two big names attached to hop on some bikes of their own.
Matt Damon and Liam Neeson are reported to be starring in the racing drama that is slated to start production next summer with shooting taking place on location on the actual island where the race is held each year. Find out more about the Isle of Man movie after the jump.
Friend of the site John Cessna called our attention to an article over at the United Kingdom motorcycling website MoreBikes, and that's where news of Liam Neeson and Matt Damon being part of the production surfaced. The site spoke to one of Honda's executives (unnamed) who revealed the casting while talking about the upcoming project.
Matt Damon will be playing an older racer who is lured out of retirement to take a crack at the iconic Mountain course at the center of The Isle of Man TT (Tourist Trophy). As for Liam Neeson, it's not clear who he'll be playing in the movie
Matt Damon is no stranger to motorcycle action having done some himself in the Jason Bourne franchise. However, Damon will have a stunt double in the form of Cameron Donald, a real life motorcycle racer who is a bit of a hero in the racing community.
As for Liam Neeson, he's quite the motorcycle enthusiast, having narrated the documentary Road (available on Netflix now), profiling the Dunlop family from Northern Ireland that dominated motorcycle road racing for years. Neeson also rides himself quite a bit, though he did have a mishap with a deer which didn't turn out so well for him, so he'll probably have a stunt double as well if his character does any riding in the movie:
This sounds like quite a passion project for Ben Younger (the director Boiler Room who has Bleed for This in theaters now), since he's a former motorcycle racer himself. When Variety announced the project back in September, here's what Younger had to say about the movie:
I'm thrilled to be partnering with Bold Films on what is an absolute passion project. The Tourist Trophy is the last, great, dangerous race on earth and I am excited by the idea of bringing this new world to a general audience. Over 200 racers have lost their lives on this Island. I want to do their stories justice.
That number might be somewhat inaccurate since Wikipedia says that between 1907 and 2015 there have been 246 fatalities, but only 141 were competitors during official practices or races. Still, that means at least one person has died every year that the race has been held, which is pretty damn scary.
Producers are Michel Litvak, Gary Michael Walters and Michael De Luca with Johnny Pariseau overseeing the project for De Luca Productions while Jon Oakes will oversee the project for Bold Films. Production is said to begin in June.