'Why Him?' Red-Band Trailer: It's Bryan Cranston Vs. James Franco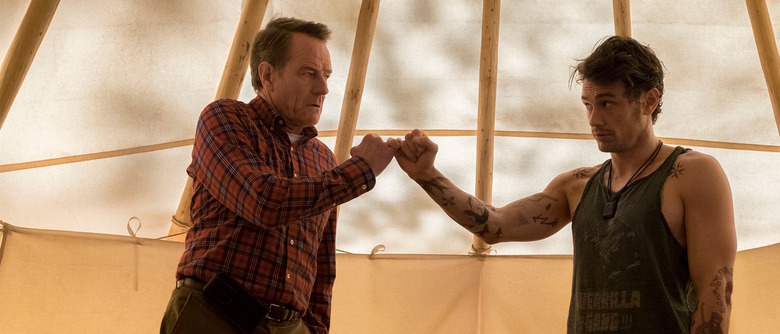 Thinking about just how awkward this holiday season is going to be with your family this year can be a depressing and uncomfortable experience. Watching someone else suffer through a really awkward holiday season, though? That's comedy gold. Or so the new comedy Why Him? would like to think.
Bryan Cranston plays the doting father of a bright young woman (Zoey Deutch) who's excited to introduce her new boyfriend (James Franco) to her family. Problem is, he's kind of the worst — an Silicon Valley "zillionaire" who has "literally no filter." Making matters even more upsetting, he's thinking about proposing. At first the boyfriend tries to ingratiate himself with the family, but when that plan fails an all-out war develops between the would-be in-laws.
Watch the Why Him? red-band trailer below. 
The premise is decent and the cast is good, but the latest Why Him? red-band trailer leaves something to be desired. Cranston's great at playing put-upon suburban dad types, and Franco loves playing obnoxious oddballs, but the jokes just aren't there. They feel creaky and overfamiliar (father is horrified to realize his daughter is probably having sex) or oddly tame (teenage boy admits he occasionally curses). The trailer also seems to give away quite a lot of plot, though it's not like anyone's going to have a tough time guessing where this story is going to go. But hey, maybe the full-length feature will be better. It'd be a shame to waste all that talent.
Directed by John Hamburg, Why Him? is in theaters December 23.
Over the holidays, Ned (Bryan Cranston), an overprotective but loving dad and his family visit his daughter at Stanford, where he meets his biggest nightmare: her well-meaning but socially awkward Silicon Valley billionaire boyfriend, Laird (James Franco). The straight-laced Ned thinks Laird, who has absolutely no filter, is a wildly inappropriate match for his daughter. The one-sided rivalry-and Ned's panic level-escalate when he finds himself increasingly out of step in the glamorous high-tech hub, and learns that Laird is about to pop the question.