Ava DuVernay's 'A Wrinkle In Time' Release Date Set, See The Entire Crew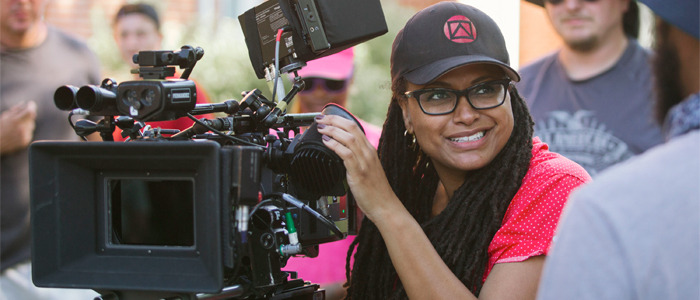 It took a little while for Disney to really get going on A Wrinkle in Time, but things have been moving along at a much faster clip since Ava DuVernay was hired to direct in February. Shooting is underway in Los Angeles as of two weeks ago, and now the fantasy feature has an official release date as well. Get more details below, and watch a video from the set.
DuVernay posted a video showing off 102 crew members across 27 departments engaging in the Mannequin Challenge. At the end, the video reveals A Wrinkle in Time will be in theaters April 6, 2018. That was one of the slots Disney had set aside earlier this year for a then-untitled live-action fairy tale. The only other film currently slated to open that week is an untitled Laika feature which will arrive two days earlier on Wednesday, April 4.
Late entry! 102 crew members! 27 departments! Release date news! #WrinkleInTime #InclusiveCrew #MannequinChallenge pic.twitter.com/5GfmztP9fI

— Ava DuVernay (@ava) November 14, 2016
Based on the classic novel by Madeleine L'Engle, A Wrinkle in Time centers on a 13-year-old whiz kid named Meg (Storm Reid). With her brother Charles (Deric McCabe) and her schoolmate Calvin (Levi Miller), Meg sets out in search of her scientist father (Chris Pine), who's gone missing after working on a mysterious project involving a tesseract, which is described as a wrinkle in time.
The star-studded cast also includes Oprah Winfrey as Mrs. Which, Reese Witherspoon as Mrs. Whatsit, Mindy Kaling as Mrs. Who, Gugu Mbatha-Raw as Storm's scientist mother, Zach Galifianakis as the Happy Medium, André Holland as Principal Jenkins, and Michael Peña as Red, plus Bellamy Young, Rowan Blanchard, and Will McCormack.
Jennifer Lee (Frozen) wrote the script. Other members of DuVernay's creative team include director of photography Tobias A. Schliessler (Beauty and the Beast), production designer Naomi Shohan (Training Day), costume designer Paco Delgado (The Danish Girl), and visual effects supervisor Rich McBride (The Revenant). JIm Whitaker and Catherine Hand are producing. Shooting on A Wrinkle in Time will take place mostly in California, with two weeks in New Zealand.
This won't be the first adaptation of A Wrinkle in Time, but the last one wasn't very well received so hopefully this will be the movie version fans have been waiting for. The cast and crew certainly look promising, and Lee's screenplay has been described as "a strong female-driven narrative [which] creatively approaches the science fiction and world-building elements of the book."
DuVernay doesn't necessarily seem like the most obvious choice to direct, in that she's never directed a big-budget fantasy before. But she's certainly an exciting pick, as films like Selma, Middle of Nowhere, and The 13th have already shown us how talented she is. And she's a groundbreaking one as well — with A Wrinkle in Time, DuVernay has become the first black female director to helm a $100 million movie.