'Ghost In The Shell' Gets Clint Mansell Score, Producer Unconcerned About Whitewashing Controversy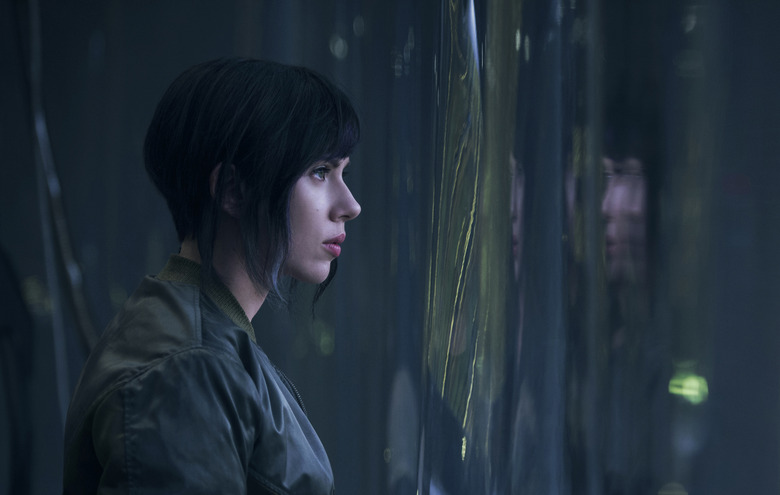 Ghost in the Shell has no shortage of stunning visuals, which is no surprise considering it's directed by Rupert Sanders. (Say what you will about Snow White and the Huntsman — and I'm personally of the opinion that it is not a very good movie — but it at least looks really pretty.) And now it sounds like we can expect some fine music to go along with it. Clint Mansell, the composer behind Requiem for a Dream, Black Swan, Moon, Stoker, and many more great-sounding films, has been confirmed to score Ghost in the Shell.
Of course, none of this will do much to address the ongoing controversy over the decision to cast a white actress (Scarlett Johansson) to lead an adaptation of an iconically Japanese property. But producer Avi Arad sounds like he's not too concerned about those accusations of whitewashing anyway. According to him, everyone he's talked to thinks the casting choice is "great." 
First, let's talk about that score. Collider was on hand at the Ghost in the Shell trailer debut event in Tokyo this past weekend, at which Sanders revealed Mansell would compose music for Ghost in the Shell. Mansell seems like a wonderful fit for Ghost in the Shell's dark, kinda grimy sci-fi vibe. He can do creepy and foreboding, as we've heard in Requiem for a Dream, but also elegant and beautiful, as we've heard in The Fountain and High-Rise. Mansell's other recent credits include Ben Wheatley's High-Rise, the "San Junipero" episode of Black Mirror, and Duncan Jones's Mute.
At a different recent event, Arad responded to questions about the whitewashing controversy that's dogged Ghost in the Shell since it was first announced. Arad acknowledged the complaints, but said he'd gotten a lot of positive feedback. "Some fans I talk to think it's great," he said. "Everyone I know personally who is a fan thought it was awesome, and there's people online who didn't think it was great." Arad admitted he's "not a big social media guy," saying, "The internet is frequently sort of a one-way thing right now."
Those comments probably won't do much to reassure moviegoers concerned about whitewashing. Just because every fan Arad knows personally thinks casting Johansson was a good idea, doesn't mean everyone else is on board with that choice. Nor does it mean those complaints are necessarily invalid.
Arad also makes an annoying distinction between "fans," whom he claims think the casting is "awesome," and random "people online," who don't. It's a line we've heard filmmakers make time and time again, as when any criticism of a movie is dismissed with "we made this for the fans." As if the only way to be a fan of a property is to blindly and wholly embrace anything put in front of you, and never ask for anything better. As if fans aren't exactly the people who care enough to speak up when they're unhappy with the way a franchise is being handled.
In any case, Arad is holding out hope that those "people online" will come around when they actually see the movie. And if they don't, he insists, it won't be because of the casting.
Here's the thing, the movie's going to come out and either they're going to feel like, 'Wow, I loved this in one format, and I feel really inspired by how it became a live-action version', or they're not gonna like it, and casting will be a piece of that, but it's not going to be the only piece.
Again, this does nothing to address the actual issue that people are upset about. It's certainly possible Ghost in the Shell has some tricks up its sleeve that we don't know about, which will mitigate all those concerns about whitewashing. I hope that's the case. But in the meantime, Ghost in the Shell is shaping up to be a very good-looking, very nice-sounding film that's still going to leave plenty of fans grumbling about its racial issues.