'The Croods 2' Now Extinct At DreamWorks Animation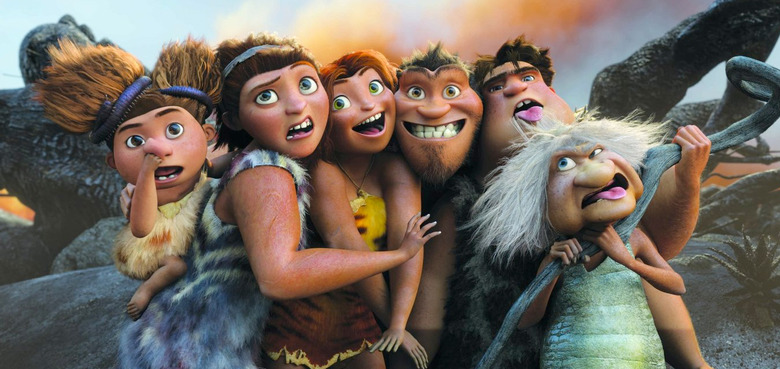 While I don't think anyone was chomping at a bit to see The Croods 2, there will undoubtedly be some animation fans disappointed by the news that arrived over the weekend.
DreamWorks Animation and their new parent comedy Universal Pictures have dropped an asteroid on the animated sequel to the 2013 prehistoric family comedy. But the good news is that this doesn't mean the Croods will be put on ice forever.
Variety has the news of The Croods 2 being scrapped entirely, but this isn't the most surprising update for the sequel that would have brought back the voice cast featuring Nicolas Cage, Emma Stone, Ryan Reynolds, Catherine Keener, Cloris Leachman and Clark Duke. After all, it appeared the film might be in trouble earlier this year when Universal and DreamWorks Animation shifted its original release date of December 22, 2017 back to a non-specific date in 2018.The Croods 2 had been in development since shortly after the first film became an international box office hit, pulling in over $587 million worldwide. But since things at DreamWorks Animation haven't been going very well lately, they're looking to cut corners in areas that they don't seem to be very confident in. Apparently the decision doesn't have anything to do with being under the control of Universal, because the animation studio was already considering pulling the plug on the projects before they moved to their new home. Perhaps they just couldn't crack the story.
Not only is this bad news for anyone who may have been looking forward to The Croods 2, but also for the 30 employees who have been working on the movie. They'll all be looking for new jobs, and while DreamWorks Animation told the employees that some could be moved to the other projects in the works, or perhaps kept around in some of their artistic development programs, that probably won't save all of them from having to find other work.
Even though this means The Croods 2 won't be coming anytime soon, someone at Universal tried to keep hopes up by saying, "The Croods is still very much in the DreamWorks catalog. It's not unheard of that it might be something someone takes a look at in the future." Plus, if you need a fix of the prehistoric family, there's a 2D animated series based on the first movie available on Netflix right now with two seasons ready to watch. But if you, or more likely your kids, are already big enough fans of The Croods to lament the cancellation of the sequel, then you probably already know that.