'Patriots Day' Trailer: Peter Berg Tells Another True Story Of Tragedy And Heroism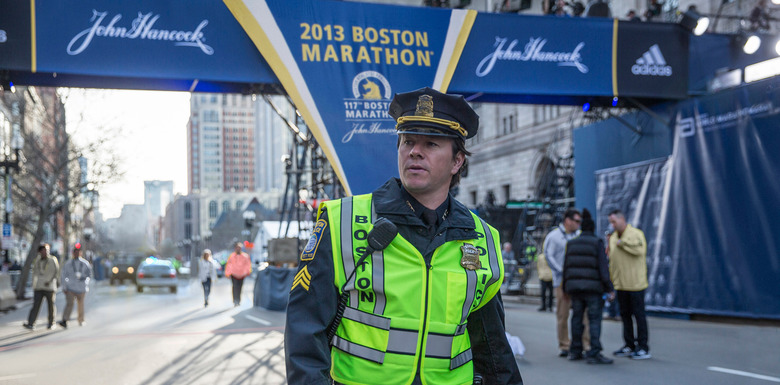 Peter Berg already directed one movie this year depicted the largest accidental marine oil spill in the history of the petroleum industry with Deepwater Horizon. Now he has one more true story coming to theaters just in time for awards season chronicling one of the most devastating terrorist attacks on American soil in the past decade.Patriots Day tells the story of the Boston Marathon bombing that took place on April 15, 2013, killing 3 civilians and injuring an estimated 264 others. The film focuses on the day of the attack and the manhunt that followed. See how it unfolds in a new Patriots Day trailer after the jump.
Mark Wahlberg plays police sergeant Tommy Saunders, who helps out his fellow officers the day of the marathon and sticks around after the bombing to help track down the suspects. He's joined by an impressive cast that includes Kevin Bacon, John Goodman, J.K. Simmons, Michelle Monaghan, Alex Wolff, Themo Melikidze, James Colby, Michael Beach, Rachel Brosnahan, Christopher O'Shea, Jake Picking, Jimmy O. Yang, Vincent Curatola, Melissa Benoist and Khandi Alexander.
Coming from Peter Berg, this looks like exactly what you'd expect him to do with the true story, but that doesn't mean it dosn't still pack a powerful emotional punch. This was a truly horrifying and disheartening terrorist attack, and seeing it all play out again on the big screen in 2013 will undoubtedly be difficult to watch. But it also shows the strength and courage that many in the city of Boston had that day in the face of violence and fear. With a prime awards season release date late in December, this could certainly pull all the right heartstrings to be an Oscar contender.
An account of the Boston Marathon bombing, PATRIOTS DAY is the powerful story of a community's courage in the face of adversity.
In the aftermath of an unspeakable attack, Police Sergeant Tommy Saunders (Mark Wahlberg) joins courageous survivors, first responders and investigators in a race against the clock to hunt down the bombers before they strike again. Weaving together the stories of Special Agent Richard DesLauriers (Kevin Bacon), Police Commissioner Ed Davis (John Goodman), Sergeant Jeffrey Pugliese (J.K. Simmons) and nurse Carol Saunders (Michelle Monaghan) this visceral and unflinching chronicle captures the suspense of one of the most sophisticated manhunts in law enforcement history and celebrates the strength of the people of Boston.
Patriots Day opens in Boston, New York an LA on December 21 and goes wide on January 13.