LOL: 'Chappelle's Show' Characters Return In Hilarious 'The Walking Dead' Spoof On 'SNL'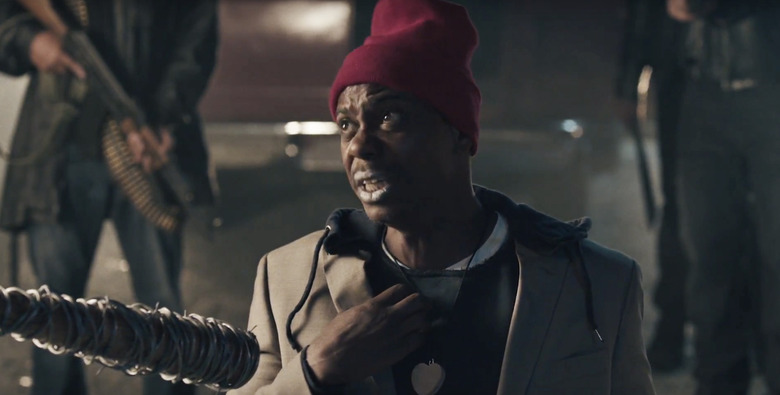 Last night brought Dave Chappelle to Studio 8H in 30 Rockefeller Plaza to host Saturday Night Live. This was a huge return to sketch comedy for the comedian who stepped away from a $50 million contract at Comedy Central, and the result was an outstanding episode of SNL overall. We'll get to that later today, but first, there's a sketch that you just have to see as soon as possible.
While we thought rights issues would prevent Dave Chappelle from being able to revive any of his signature characters from Chappelle's Show, they must have worked something out with Comedy Central. Originally Chappelle wasn't sure he wanted to bring back any of his characters while hosting SNL, and who can blame him, but he saw the perfect opportunity to do so by parodying the seventh season premiere of The Walking Dead where the twisted Negan decides which of the show's main characters he's going to kill with his trusty bat Lucy.
Watch the Dave Chappelle Walking Dead sketch after the jump.
The scene plays out with Dave Chappelle as Negan, trying to determine if he should kill Clayton Bigsby, Lil Jon, Donnell Rawlings or Tyrone Biggums (all played by Dave Chappelle too, obviously). This sketch is so perfect that it feels like it's from a new season of Chappelle's Show. Seeing these characters makes me wish he would come back and give us the full season that we never got from him, but I can't imagine that will happen.
In a way, this scene could also prove to be rather therapeutic for Dave Chappelle. While I'm sure he loves these characters dearly, they were also something he came to be defined by as a comedian, which is partially what made him so uncomfortable about the level of fame he had reached. That combined with the fact that he felt some of his fans were getting the wrong message from some of his racially charged sketches full of social commentary is what took Chappelle away from comedy.
But having Dave Chappelle back on Saturday Night Live was a great return for the comedian, and I hope this is just the beginning of his return to television. Though Chappelle has been back to doing stand-up for years now, we need a brilliant comedian like him back on television again.