'Transformers: The Last Knight' Trailer Coming Soon; Bumblebee Spin-Off Script Is Done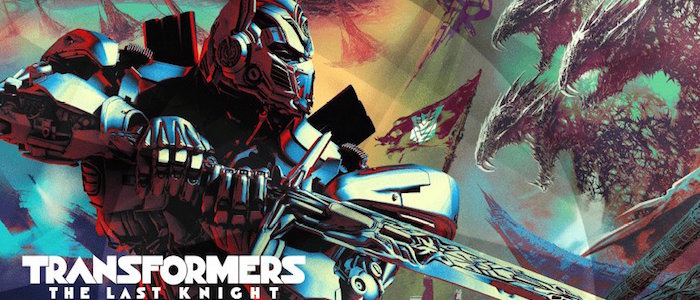 The buzz surrounding the next installment of the Transformers franchise is about to take off as the first trailer is on the verge of arriving next week. Word on the street is that the first Transformers: The Last Knight trailer will debut in theaters next week and then hit the web shortly thereafter. But that's not the only good news for Transformers fans.
Find out a bit more about the Transformers The Last Knight trailer release and the status of the developing Bumblebee spin-off after the jump.
First up, Consumer Protections BC reveals that the first trailer for Transformers: The Last Knight has been certified and rated for arrival on IMAX screens next week with Fantastic Beasts and Where to Find Them. The trailer will run 2 minutes and 1 second, which sounds a bit long for a teaser trailer, but usually the first trailers for Transformers sequels feature footage created specifically for the trailer rather than from the movie. But since the sequel has been in production for months now, they may show off some of what they shot. It should be online sometime after it debuts in theaters if not the same day.
In the meantime, fans can take solace in the fact that the next Transformers movie has made some solid progress. It's the Bumblebee spin-off that we heard about when the writers room was formed to guide the future of the Transformers franchise, and Deadline reveals the script has been completed. Paramount Pictures is happy with what they got from writer Christina Hodson, one of the later additions to the writers room. Now the studio will start making offers to directors in order to get the film lined up for a hopeful summer 2018 release.
As of now details on the future of the Transformers franchise are not abundant. There have been hints about what we can expect from Transformers: The Last Knight, including Hitler and Winston Churchill, King Arthur and mini-Dinobots, but specifics on the story still haven't been revealed. And we know even less about the Bumblebee spin-off. But there will be no shortage of Transformers action as the writers room created a timeline for movies that will span over the next 10 years. But it's too early to know whether they'll all roll out as Paramount Pictures hopes they will.
Transformers: The Last Knight arrives on June 23, 2017 and the untitled Bumblebee spin-off is slated for June 8, 2018.