Tony Stark Almost Left Spider-Man A Secret Message In 'Captain America: Civil War'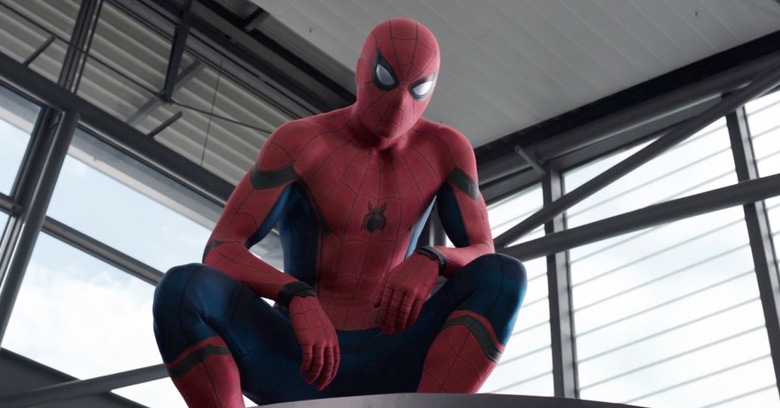 Despite how long Marvel Studios tapdanced around the prospect of Spider-Man appearing in Captain America: Civil War, we were certain the webslinger was going to show up in the movie. However, one thing we didn't know about until around the time the movie hit theaters was that the post-credits scene for the movie featured a tease for Spider-Man: Homecoming. And that scene almost featured a more overt tease for what's to come in the Spidey franchise reboot.
Some concept art from the visual effects company Perception, who created the digital readout projected by Peter Parker's (Tom Holland) webshooters that Tony Stark (Robert Downey Jr.) gave him, reveals that there was almost a secret message that the genius, billionaire, playboy philanthropist left for the webslinger. Find out about Tony Stark's secret message to Spider-Man after the jump.
Here's one of the pieces of concept art from the Captain America: Civil War credits scene: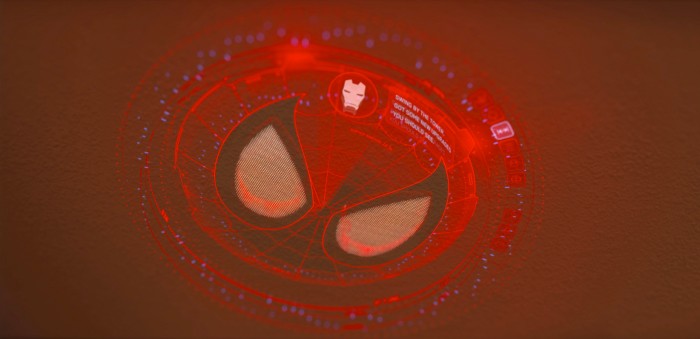 If you zoom in on the image, there's a message next to that Iron Man icon that says, "Swing by the tower. Got some upgrades you should see." That doesn't seem quite as playful as a message from Tony Stark would be, and it's probably a little too overt for what Marvel was hoping to tease. But the thought was clearly meant to tease the fact that Robert Downey Jr. would have a role in Spider-Man: Homecoming, something we found out just before Civil War hit theaters.
Aside from this cool behind the scenes detail, Perception also revealed a bunch of their alternate concepts, some with the message, some without. They all have variations on the round Spider-Man face logo with variances in the eyes, and the details of the hologram around them vary as well. It just goes to show you how many different options are presented in order to find the best one. Here's some of the other options (you can see more over here):
It'll be interesting to see how Tony Stark works with Peter Parker in this movie. Presumably his suit will get an upgrade from the last time we saw him, but I doubt that we'll actually see Stark suit up as Iron Man for this one, unless he decides to give Parker some training. But as Parker proved in Civil War, he's already pretty skilled when it comes to webslinging. But Michael Keaton is undoubtedly going to give him a run for his money as Vulture.