Another 'Rogue One: A Star Wars Story' International Trailer Heats Up The Rebel Action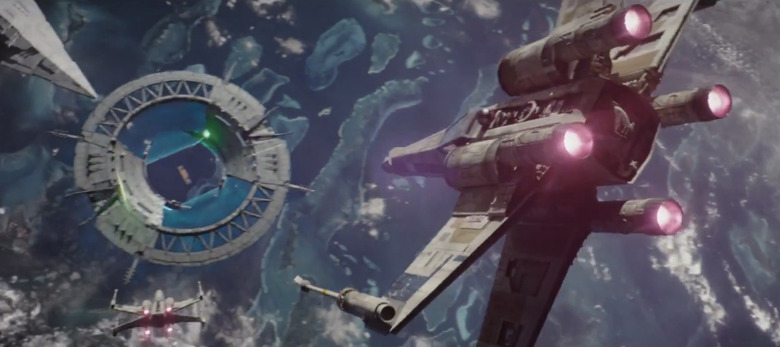 Yesterday, a new international Rogue One A Star Wars Story trailer came out of nowhere, and it was chock full of new footage for us to closely scrutinize. Now another one has surfaced, and while this one doesn't have nearly as much new footage, and is much more similar to the previous domestic trailer for Rogue One, there are some incredible action shots that we haven't seen before, both from the forthcoming space battle and the ground war on Scarif.
Watch the new international Rogue One trailer after the jump.
While most of the footage is the same, we get some cool new shots of characters like Baze Malbus and Chirrut Imwe in action (the latter dodging laser blasts). There's our team's U-Wing flying through hyperspace, an AT-ACT getting blown to smithereens, and more footage of whatever battle is happening in space, and doesn't involve the Death Star this time. In fact, the structure in question appears to be a docking station for Star Destroyers.
With just about a month to go until Rogue One hits theaters, we're going to be getting new footage here and there in TV spots, but hopefully nothing that will spoil the surprises in this movie. So far, all the new footage hasn't given anything away, and it actually has us asking more questions than we had before. Surely they'll all be answered when the film hits theaters.
You can watch the most recent international trailer for Rogue One right here, as well as our breakdown. Plus, be sure to check out the last domestic trailer that was released and our extensive breakdown of that trailer as well.
Oh, and here's an international TV spot with a few new bits of footage too:
From Lucasfilm comes the first of the Star Wars standalone films, "Rogue One: A Star Wars Story," an all-new epic adventure. In a time of conflict, a group of unlikely heroes band together on a mission to steal the plans to the Death Star, the Empire's ultimate weapon of destruction. This key event in the Star Wars timeline brings together ordinary people who choose to do extraordinary things, and in doing so, become part of something greater than themselves.
Rogue One: A Star Wars Story" is directed by Gareth Edwards and stars Felicity Jones, Diego Luna, Ben Mendelsohn, Donnie Yen, Mads Mikkelsen, Alan Tudyk, Riz Ahmed, with Jiang Wen and Forest Whitaker. Kathleen Kennedy, Allison Shearmur and Simon Emanuel are producing, with John Knoll and Jason McGatlin serving as executive producers.
Rogue One: A Star Wars Story hits US theaters on December 16.