'Rogue One: A Star Wars Story' International Trailer: Trust The Force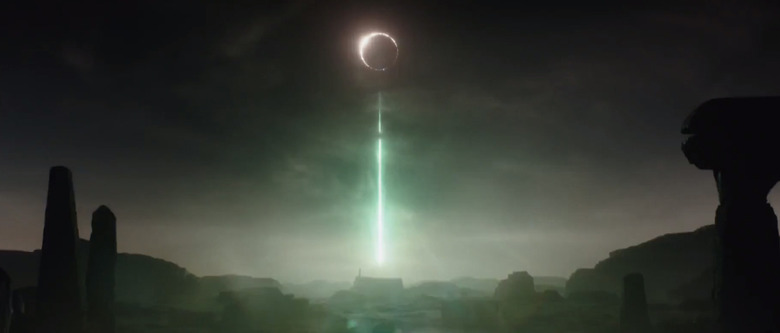 It's time to look on the brighter side of the end of 2016 with a new international trailer for Rogue One: A Star Wars Story.
The new tease for the first Star Wars spin-off features a bunch of new footage from the film that follows a band of Rebels tasked with getting the plans to the original Death Star. There are some awesome new shots here, like the one seen above, as well as an indication that Jyn Erso's mother has a strong belief in The Force. Plus, stick around until the end for a new shot of Darth Vader.
Just watch the new international Rogue One trailer after the jump.
Is that a Kyber crystal around Jyn's neck?! Check out our Rogue One trailer breakdown to learn more.
The biggest takeaway from all the footage we've seen from Rogue One so far is that the cinematography is infinitely better than it was in The Force Awakens. Each shot just feels less artificial and has a certain authentic quality to it, much like the original Star Wars. I think part of it is the brightness of the colors, but generally, it just looks better on camera.
Beyond that, this looks like it will be a great way to start of a new kind of Star Wars movie, a series that will hopefully begin to venture into some uncharted territory with far less familiar characters. While I'm all for seeing what Phil Lord & Chris Miller can do with Han Solo, I'm much more excited about the characters we haven't met yet and what Star Wars can become as opposed to just filling in the gaps in what we're already familiar with.
From Lucasfilm comes the first of the Star Wars standalone films, "Rogue One: A Star Wars Story," an all-new epic adventure. In a time of conflict, a group of unlikely heroes band together on a mission to steal the plans to the Death Star, the Empire's ultimate weapon of destruction. This key event in the Star Wars timeline brings together ordinary people who choose to do extraordinary things, and in doing so, become part of something greater than themselves.
Rogue One: A Star Wars Story" is directed by Gareth Edwards and stars Felicity Jones, Diego Luna, Ben Mendelsohn, Donnie Yen, Mads Mikkelsen, Alan Tudyk, Riz Ahmed, with Jiang Wen and Forest Whitaker. Kathleen Kennedy, Allison Shearmur and Simon Emanuel are producing, with John Knoll and Jason McGatlin serving as executive producers.
Rogue One: A Star Wars Story hits US theaters on December 16.