'Beware The Slenderman' Trailer Explores An Online Monster & The Gruesome Crime It Inspired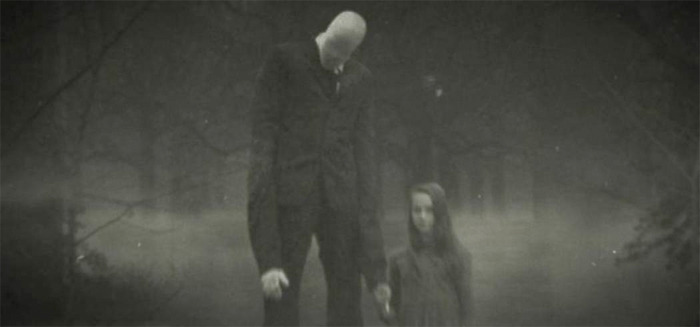 A couple years ago, two 12-year old girls from Wisconsin were arrested for allegedly stabbing a classmate 19 times. This crime is disturbing by itself, but making it even more unnerving was the fact that the two girls committed this unspeakable act of violence in order to impress an internet-created monster known as Slender Man.
Now an HBO documentary called Beware the Slenderman explores the legacy of this monster that originated on a forum called Something Awful and has since become something feared by those who believe the stories that are nothing but fabrications. And it also takes a look at the developing trial of  the two girls who could end up being tried as adults for their crime.
Watch the Beware the Slenderman trailer after the jump.
Director Irene Taylor Brodsky had this to say about the story at the center of the documentary (via Uproxx):
"The narrative does not revolve around guilt or innocence, but instead the court's deliberation whether the girls should be tried as adults or children. Above all, it is the anguish and astonishing honesty of the girls' parents that anchors the film's narrative to its tragic core."
Clearly it also provides plenty of background about the Slenderman as well, though the trailer maybe pushes forth the horrifying imagery of the fake monster a little too much for a story so focused on the trial of these two girls. But it's the monster that acts as the catalyst for a message to our technology obsessed society, according to Variety's review of the documentary after it premiered at the SXSW Film Festival earlier this year:
"Irene Taylor Brodsky's documentary is mostly a straightforward, inevitably engrossing true-crime tale. But it does implicitly make the lar ger point that letting kids spend umpteen hours interacting with the virtual rather than real world can reap results from the mildly antisocial to the homicidally delusional."
This looks to be an unnerving documentary for a number of reasons, not the least of which is the scary images of of the fictional monster. But clearly even more horrifying is what some of these teens become capable of when they lose track of what's real.
Shot over 18 months with heartbreaking access to the families of the would-be murderers, the film plunges deep down the rabbit hole of their crime, a Boogeyman and our society's most impressionable consumers of media. The entrance to the internet can quickly lead us to its dark basement, within just a matter of clicks. How much do we hold children responsible for what they find there?
Beware the Slenderman premieres on HBO on January 23, 2017.