Star Wars And Rogue One Bits: Mads Mikkelsen On Galen Erso, Donnie Yen On Chirrut Îmwe, And Sam Jackson Debunks Your Wacky Mace Windu Theory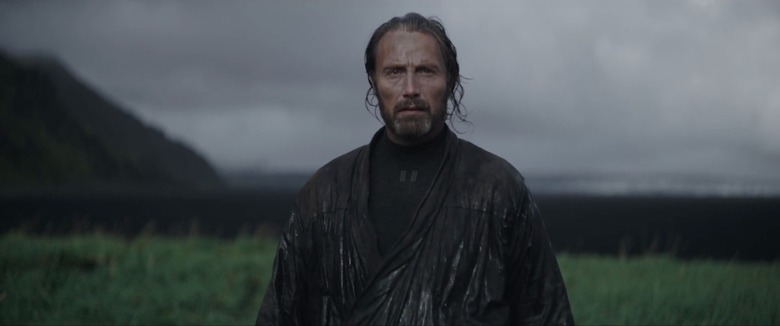 In this Special Edition team-up version of Star Wars Bits and Rogue One Bits:
Mads Mikkelsen talks about sharing so many scenes with Ben Mendelsohn.
Star Wars: Battlefront 2 is coming next year.
Donnie Yen created one major element of his Rogue One: A Star Wars Story character.
Samuel L. Jackson says Mace Windu is not Supreme Leader Snoke.
The synopses for the next batch of Star Wars Rebels episodes are revealed.
Ashley Eckstein's geek clothing line is undergoing some changes.
Preview Marvel's new Doctor Aphra comic.
New official and unofficial Star Wars art.
And more!
First up, here's a new still of Mads Mikkelsen in Rogue One: A Star Wars Story:
New still of Mads as Galen Erso in #RogueOne! #MadsMikkelsen https://t.co/Jcp2lwMFx6 pic.twitter.com/XvNWoh4KMT

— MadsMikkelsen.Net (@MadsSource) November 5, 2016
In addition, Uproxx has a wonderful interview with Mads Mikkelsen, who is having quite the year. After all, he's the lead villain in Doctor Strange and Galen Erso, the scientist forced to build the Death Star for the Empire, in Rogue One. Although Mikkelsen confirms that Ben Mendelsohn (who plays Rogue One's chief villain, Orson Krennic) is a very funny man, he notes that there's not much comedy in their scenes:
There's a not a lot to laugh about. He's not treating my character very well. It's not a laughing situation. But, personally, he's one of the funniest people I've ever met. He can definitely keep up the energy on every set in the world.
Mikkelsen couldn't say much about Rogue One, but he did participate in the time-honored tradition of new Star Wars actors explaining their history with the series:
It was enormous. I didn't catch the first one at release because I think I was a little too young, but I caught up on them later as a late teenager. But I remember vividly people sleeping outside the cinemas waiting. I think the siege had hit Europe as much as it did in America.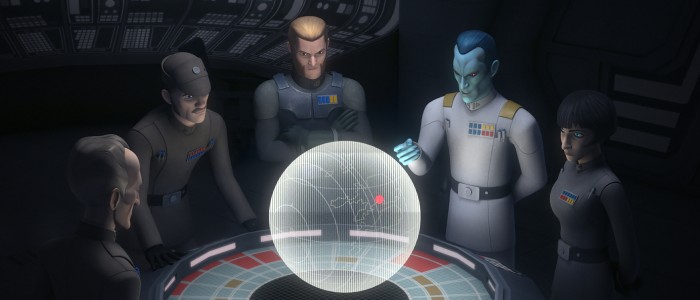 Jedi Bibliothek (via Star Wars News Net) has uncovered the synopses for the next batch of Star Wars Rebels season 3 episodes. So, without further ado, here's what you can expect:
Star Wars Rebels S03, E08 : Iron Squadron (November 19, 2016). Ezra and Sabine join forces to tame a young top pilot and his crew, who are risking their lives in a fight. Only this way, they can defend their homeland.
Star Wars Rebels S03, E09 : The Wynkahthu Job (November 26, 2016). The rebels join forces with unscrupulous pirates to retrieve a freighter carrying weapons needed by the rebellion. However, the mission turns out to be far more dangerous than expected.
Star Wars Rebels S03, E10 : An Inside Man. On their search for information about a new imperial weapon, Ezra and Kanan infiltrate an imperial installation, which is about to be locked down. In order to escape, they have to trust an enemy.
Star Wars Rebels S03, E11 : Visions and Voices. Tortured by visions of Maul, Ezra has to travel through the galaxy and participate in a weird ritual to cut his connection with Maul.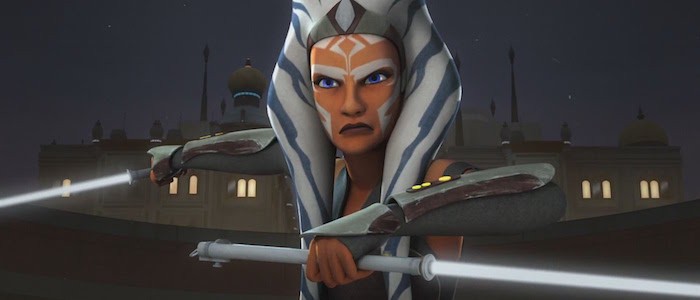 Although she is best known amongst Star Wars fans as the voice of Ahsoka Tano on Star Wars: The Clone Wars and Star Wars Rebels, Ashley Eckstein is also the founder of Her Universe, a clothing line dedicated to science fiction and fantasy fashion for women. Her Universe was recently acquired by Hot Topic and Eckstein wrote a letter explaining the situation:
Her Universe will continue to be a stand-alone brand that is available at multiple retailers and on HerUniverse.com just like we always have been. We will also be continuing with the Her Universe Fashion Show and Her Universe Press. Honestly, the Her Universe brand that we've all grown and built together will continue as you've known it, but exciting growth and amazing opportunities lie ahead.
The line will act as a division of Hot Topic but will otherwise be allowed to continue without many significant changes. She also noted that the company will create more plus-size clothing and introduce menswear.
A new episode of Collider's Jedi Council series features an interview with Pablo Hidalgo of the Lucasfilm Story Group, one of the people tasked with keeping the new Star Wars canon in line.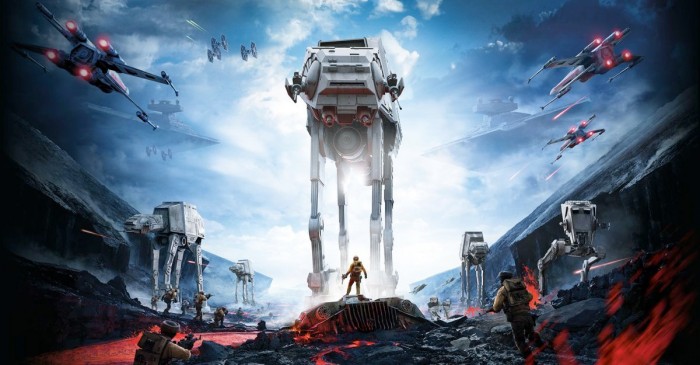 Star Wars: Battlefront didn't win over everybody, but it was a well made and beautiful game that captured the Star Wars flavor in many satisfying ways. And it also sold really well, so we were definitely going to get a sequel. EA chief financial officer Blake Jorgensen (via Polygon) has revealed that the next game is expected "a year from now" and that they are "working very hard on making sure that is an extremely deep and engaging offering." While Battlefront doesn't look like it'll be an annual occurrence (which is good news, because that's how you kill a game series), it does seem likely that a new release will accompany each main "episode" movie going forward.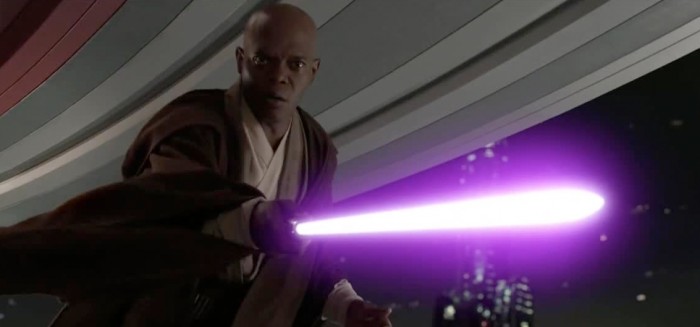 Apparently, I missed the ridiculous theory that Supreme Leader Snoke was actually Mace Windu, the Jedi Knight played by Samuel L. Jackson in the prequel trilogy. I guess people thought this could be a thing because both of them are bald? Well, let's just say that Jackson isn't on board with this theory either, telling Nerd Bastards:
I'm not a part of that rumor or theory. I would like for Mace Windu to just be Mace Windu. I'm of the idea that Jedi can fall from enormous heights and still survive. The fact that he cut his hand off is not a big deal [either]. There are a lot of one-handed Jedi or Jedi with robotic or enhanced hands in that world.
To be fair, I also don't like the idea of Mace Windu surviving the events of Revenge of the Sith. If we resurrect every supposedly dead character because people like them, death stops mattering. Mace Windu's death means something! Keep him dead!
A few new Rogue One trading cards have been revealed by Topps, each of them showcasing a different alien and the actor inside the suit (while also allowing some blank space for a potential convention autograph). You'll not that Paul Kasey plays both Edrio Two Tubes (one of Saw Gerrera's Rebels on Jedha) as well as the Mon Calimari Admiral Raddus.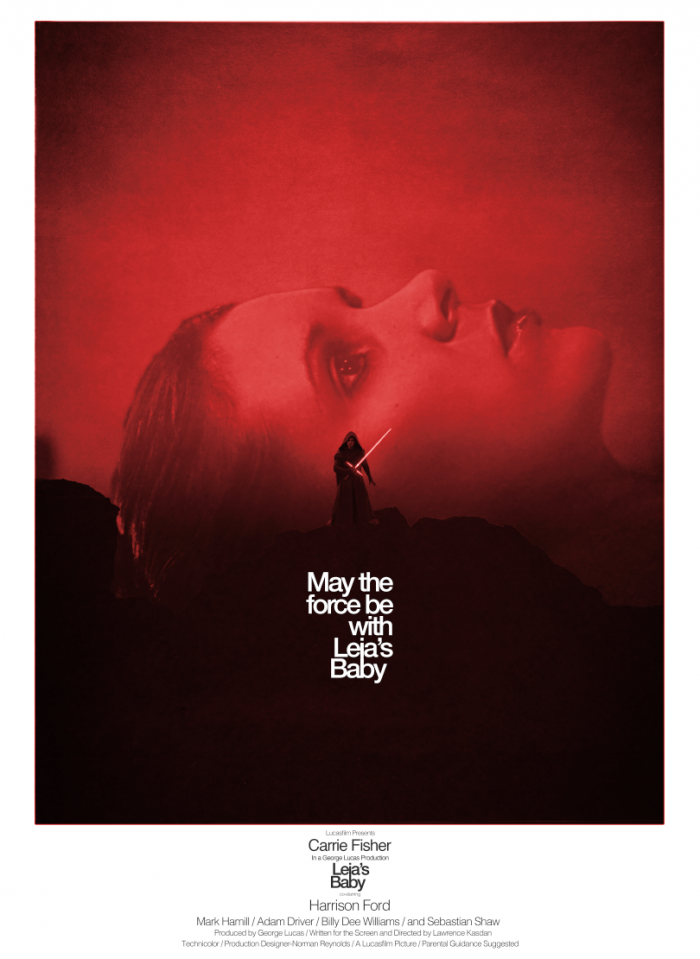 I have pretty high standards when it comes to pop culture mash-ups and I have specially high standards for Star Wars mash-ups since everyone makes Star Wars pop culture mash-ups. However, this piece by artist Andy Wynn, which smashes Star Wars and Rosemary's Baby together gets my seal of approval. This isn't an arbitrary combination of two movies – of course the classic poster for the famous horror movie about a woman impregnated with the child of Satan would provide appropriate imagery for Leia Organa's nightmarish child-rearing experience.
Acme has unveiled a new batch of Star Wars art based on scenes and characters from Return of the Jedi, Star Wars: The Force Awakens, and Rogue One. They are "Attack on Takodana" by Christopher Clark, "Reluctant Warrior" and "Death Troopers: Scarif Invasion" by Randy Martinez, and "The Golden God" by Joel Payne. For more information (and to buy one, should you be interested), follow the link above.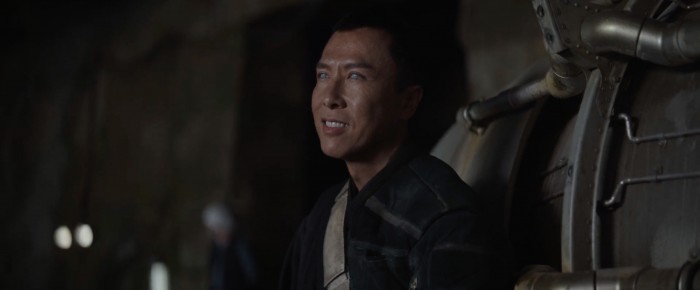 Jetset has published a new profile on Donnie Yen, the Chinese actor who plays the warrior monk Chirrut Îmwe in Rogue One. While the whole thing is worth reading (Yen's non-Star Wars work is pretty incredible), the most interesting bit involves Yen explaining that he was given freedom to create the character as he saw fit and that it was his decision to make Chirrut blind:
Gareth Edwards definitely knew what he was getting when he brought on Yen, and allowed him to flesh out his Force-sensitive character how he saw fit ("it was my idea to make him blind," Yen says proudly). Today, Yen is pleased with his contribution to the film and even embraces the fact that he will forever be immortalized as a Lego ("I think I might give them out as gifts," he jokes).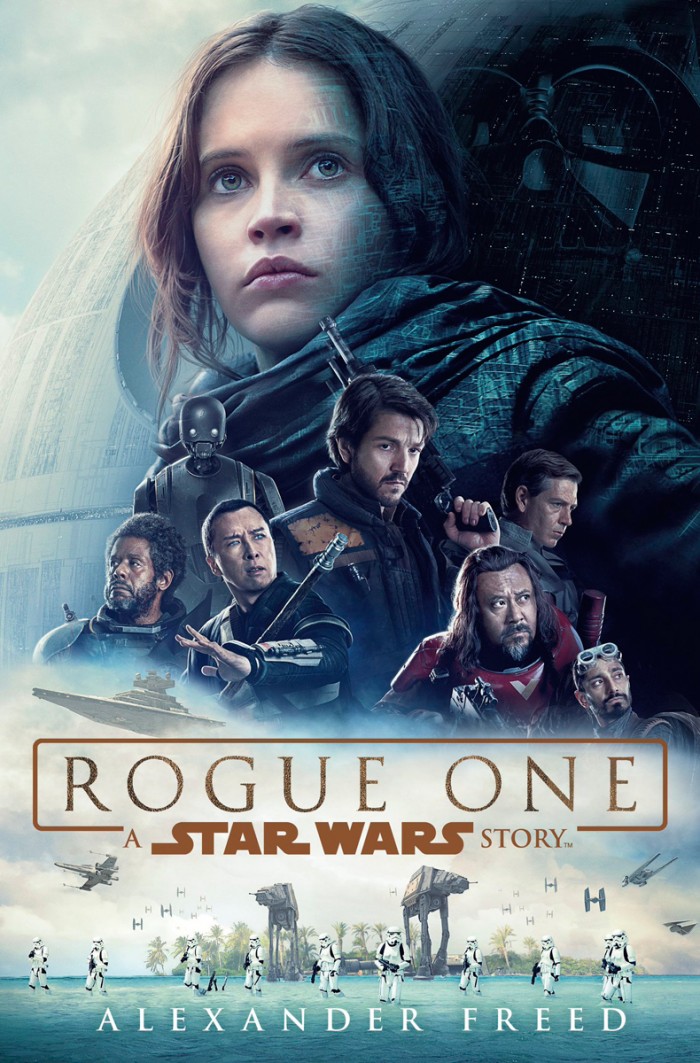 The next Star Wars novel to hit shelves is Star Wars: Catalyst, a prequel to Rogue One set during the Clone Wars, but Alexander Freed's novelization will soon follow. And that's the cover, which is pretty much the most recent poster with only a few minor changes. The ebook will drop on December 16, the same day that the film is released. A hardcover date has not been announced.
The latest episode of The Star Wars Show has arrived and with it, the news of Rogue One: Recon, a new 360 experience being developed by ILMxLab that will put the viewer in an X-Wing during a big space battle.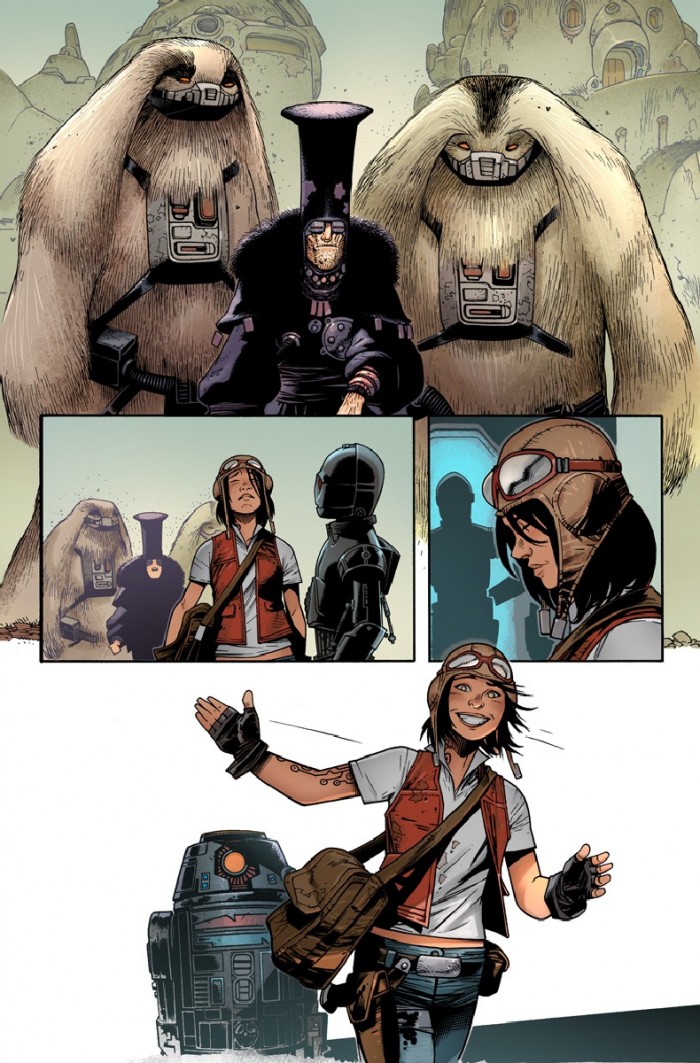 Newsarama has released a few preview pages from Doctor Aphra #1, the first issue of the new comic book series following the morally flexible criminal archaeologist introduced in the pages of (officially finished and pretty damn good) Darth Vader comic. You can check out more pages at the link above.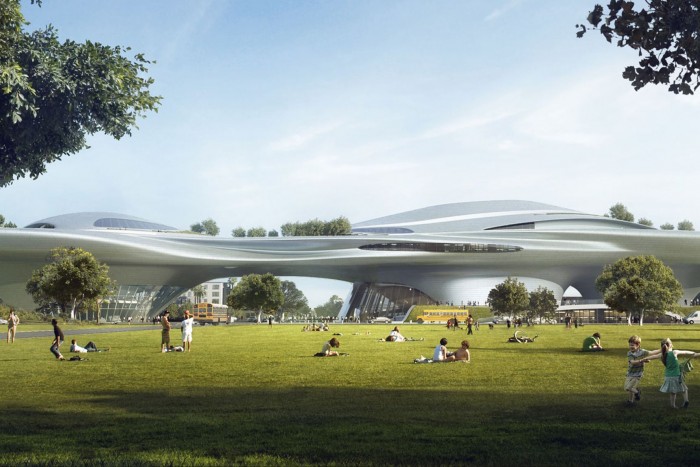 After years of failing to get it built in San Francisco and Chicago, George Lucas' long-planned Lucas Museum of Narrative Art is now eyeing Los Angeles, California and new renderings of what it will look like have been released. As you'd expect from a museum named after the man who created Star Wars, the building (designed by Chinese architect Ma Yansong) looks more like a spaceship that has landed in Exposition park than a traditional museum.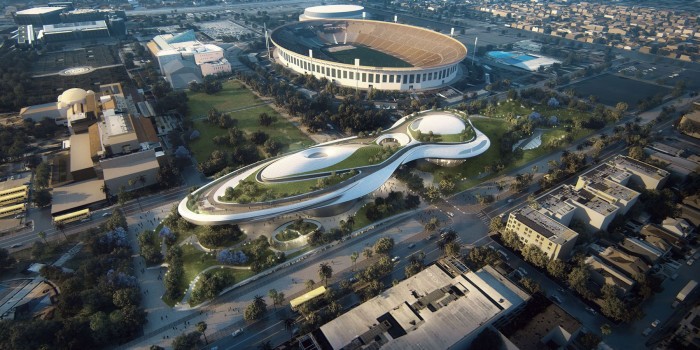 Considering how strongly Chicago and San Francisco rejected Lucas' attempts to build in their cities, this is still far from a sure thing.