'Collateral Beauty' Trailer: Will Smith Tries To Fix His Clouded Mind And Broken Heart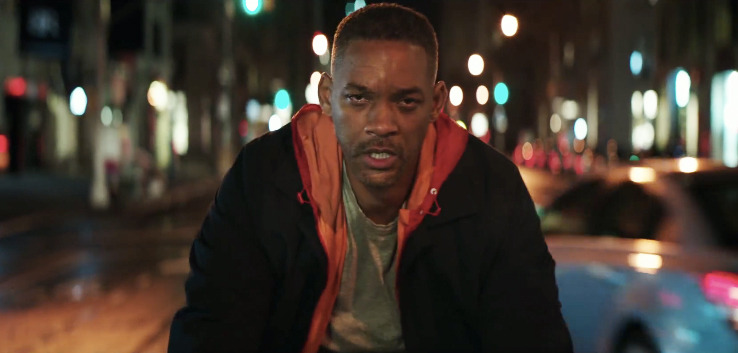 Perhaps delivering the uplifting boost we all need this holiday season, a new trailer for the seemingly fantastical drama Collateral Beauty has arrived.
Will Smith stars in the film as a man who has lost all hope after losing his daughter. As a way of coping with his depression, he writes letters to Time, Death and Love. Then one day, they start showing up one by one to help him work through all the heartbreaking and bitterness he's been carrying around. Is this really the cosmos reaching out to him with answers, or is there something more practical at work here?
Watch the new Collateral Beauty trailer below.
While the trailer paints this beautiful tale in the vein of It's a Wonderful Life, I still can't help but think that it's some kind of therapeutic ruse created by his friends, played by Edward Norton, Kate Winslet and Michael Pena. Even though Jacob Latimore (as Time) has that scene with Will Smith where he tells him to ask Kate Winslet if she can see him, she could easily be pretending that he's not there just to keep up appearances.
Having said that, creating this kind of trickery to help a friend is a huge risk and a little elaborate. But I could also see this movie doing something along the lines of revealing that the appearances of Time, Death (Helen Mirren) and Love (Keira Knightley) were fabricated by a plan, but then having something truly supernatural happen to make people feel all warm and fuzzy inside. And after this horrifying election, that sounds like just the thing we need.
On a side note, while Will Smith pours his heart into these dramatic performances, I'm wondering if we're ever going to get him in some kind of summer blockbuster role ever again. He may not have the draw he once had on that front, but that doesn't mean he shouldn't try anymore.
If you want to see more from Collateral Beauty, directed by The Devil Wears Prada helmer David Frankel, check out the first trailer right here.
When a successful New York advertising executive suffers a great tragedy he retreats from life. While his concerned friends try desperately to reconnect with him, he seeks answers from the universe by writing letters to Love, Time and Death. But it's not until his notes bring unexpected personal responses that he begins to understand how these constants interlock in a life fully lived, and how even the deepest loss can reveal moments of meaning and beauty.
Collateral Beauty arrives on December 16, just in time to feel good around the holidays.