'Mark Hamill's Pop Culture Quest' Trailer Reveals The Most Impressive Geek Collections Ever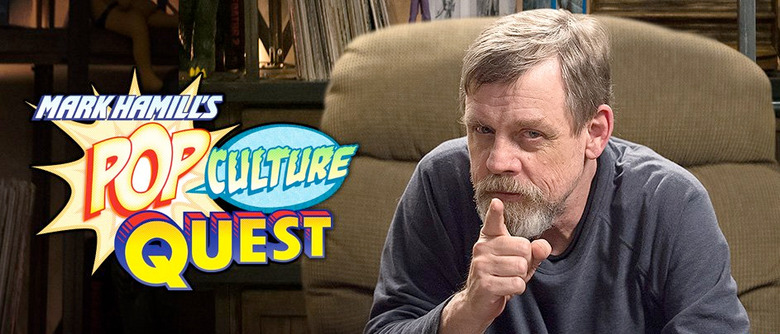 Thanks to the magic of the internet, we've gotten to see plenty of pop culture collections, from action figures to comic books, displayed to make us infinitely jealous. Now someone who is actually a piece of millions of collections around the world will take us to check out some of the most impressive pop culture collectible collections ever.
Mark Hamill's Pop Culture Quest is a new show coming to Comic-Con HQ that features the titular Star Wars saga actor meeting some of the most hardcore fans and collectors of all things nerdy. The first trailer for the series has just debuted online, and in addition to showing off some impressive collections, it also features Mark Hamill interviewing some of the people responsible for featuring the very things that we collect.
Here's the Mark Hamill's Pop Culture Quest trailer from Collider:
In addition to showing off some incredible collections, Mark Hamill is also seeking out some of the rarest pieces of any collection out there, hence the title of the show. And this won't be just some instance of an actor being used to sell a show, though Hamill's star power certainly helps with geek credibility on the surface. The actor has been a collector himself for a long time:
I've been a collector all my life. This show is a natural outgrowth of that passion. Now I have an opportunity to collect other people's collections! I can't wait to see what's out there and share it with the world. Collectibles are a living history of who and what we are, so we just might learn something, but there's no doubt we're going to have fun!
The first episode, which debuts next week exclusively at Comic-Con HQ, follows Hamill as he heads to DC Comics headquarters with artist Jim Lee. That's a pretty easy place to start, because obviously they're going to have some great stuff to show off, but future episodes will head into plenty of private collections that will blow your mind.
For those who don't know, Comic-Con HQ is a new channel that is available at Comic-ConHQ.com via web browsers and iOS/Android devices, Roku, AppleTV and Amazon Channels, with more to come. It's ad-free, and will feature exclusive original series, daily entertainment news, an ever-evolving library of film & TV genre titles, sneak previews and special features from the latest and greatest franchises across comics and the popular arts.
Join Mark on his quest to track down the rumored rocket-firing Boba Fett, the original Time Machine, the last surviving armature model used to animate the original 1933 King Kong, the 1992 Batmobile, and so much more! Mark travels inside pop culture's vaults to uncover why we are so fascinated with collecting and what our collections say about us.
Mark Hamill's Pop Culture Quest will be available starting November 15th.