'The Goldbergs' Is Getting A Spin-Off Set In The 90s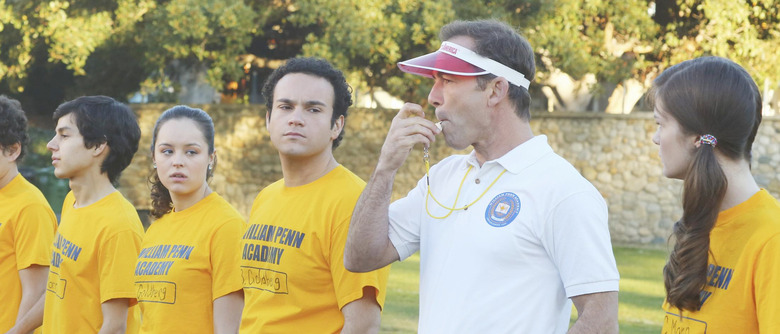 The Goldbergs is currently in its fourth season on ABC. The 1980-something set series has become one of the best family-friendly comedies on network television. The series from creator Adam F. Goldberg and executive producers Mark Firek, Doug Robinson and Seth Gordon takes the formula of The Wonder Years and mixing it with the nostalgic comedy of something like The Wedding Singer. And now The Goldbergs is getting a spin-off with a different decade of nostalgic comedy.
Find out about The Goldbergs spin-off after the jump.
The Hollywood Reporter reveals that ABC is working with Adam F. Goldberg on a spin-off series that would be set in the 1990s and feature one of the recurring supporting stars of The Goldbergs, the gym teacher Mr. Mellor, played by comedian Bryan Callen.
The currently untitled spin-off would follow two high school teachers, one being Bryan Callen's character, who become an unlikely father figure to the school secretary's three misfit kids. Just like The Goldbergs, it would take place in Philadelphia, presumably at the same school we've already seen in the original series.
The spin-off will have all of the aforementioned executive producers on board the show, hopefully it finds the same kind of success that The Goldbergs has. Being intentionally set in the 1990s, I wonder if each episode will rely on the nostalgia of the decade to drive some of the stories just as The Goldbergs has done throughout their seasons.
Most episodes of The Goldbergs are driven by the love of 1980s movies, TV shows and music that influence characters, especially the kids played by Sean Giambrone, Troy Gentile and Hayley Orrantia, but it hasn't been said if that formula will follow for this spin-off. I'm betting the spin-off will be more of its own thing rather than being just a copy of The Goldbergs set in the 1990s. After all, ABC already has Fresh Off the Boat, which does a pretty good job of having a family comedy set in that decade.
If all goes well, we'll probably see this spin-off as part of ABC's upfronts next year, unless the series doesn't turn out how the network wants it to. There could even be a backdoor pilot to introduce the other teacher who would co-star with Callen in the series, but that wasn't explicitly mentioned as being part of the plan for this proposed spin-off. Stay tuned for more details as they become available.