VOTD: New Footage Of Chewbacca Speaking English On 'The Empire Strikes Back' Set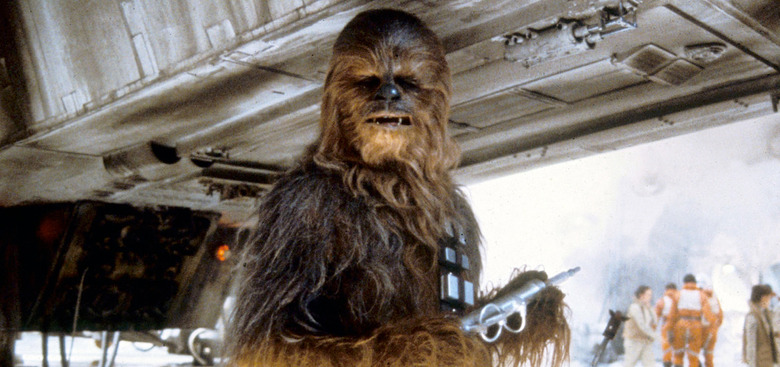 Even the most casual of Star Wars fans could tell you that Chewbacca gets his points across with various roars and howls. The Millennium Falcon's co-pilot is a Wookiee who speaks the language of the same name, and Han Solo can understand him perfectly. In fact, the only way we can really decipher what Chewbacca is saying is by listening to how Han reacts to him.
But what if we had a direct translation of what Chewbacca was saying? Thankfully, some new footage from the set of The Empire Strikes Back that surfaced over the weekend gives us this ability, and it's actually extremely hilarious. Listen as Chewbacca speaks English after the jump.
Wonderful bit of stuff from @jamieswb!! pic.twitter.com/oObW8Cll2f

— Peter Mayhew (@TheWookieeRoars) November 5, 2016
The footage comes from Jamie Benning, the man responsible for creating what he has dubbed "filmumentaries," makeshift documentaries using collections footage from interviews, behind the scenes and more to create in-depth making of documentaries of some of the most revered films of all time, including Star Wars (which you can watch it its entirety right here). In case you've never seen another clip featuring Peter Mayhew speaking from inside the Chewbacca suit, here you go:
It would be truly incredible, and probably downright funny, if there could ever be a cut of Star Wars assembled with all of the on-set dialogue from Peter Mayhew included instead of Chewbacca's signature roars. It's not quite as funny as listening to David Prowse, the body of Darth Vader, doing the dialogue instead of James Earl Jones, but it's still pretty damn entertaining.