'Fantastic Beasts' Deleted Scenes Will Include An Ilvermorny School Song Written By Alison Sudol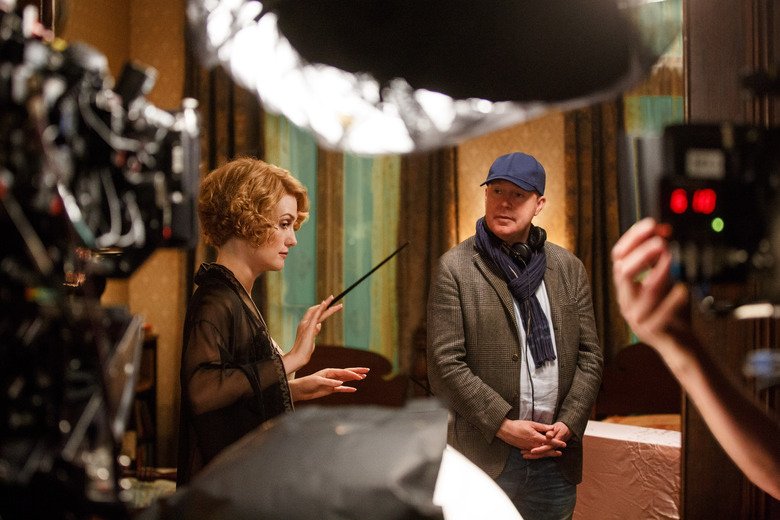 At over two hours long, Fantastic Beasts and Where to Find Them has no shortage of magical moments. But even so, director David Yates had to cut out two of his favorite sequences. In a conversation with /Film, Yates spilled the details on the Fantastic Beasts deleted scenes — including one that involving an Ilvermorny school song written by star Alison Sudol (who's a musician when she's not too busy finding fantastic beasts). And in even better news, Yates told us they'd make it onto the DVD extras.
No major spoilers are ahead, so proceed without worry.
During our chat in New York this week, Yates went into detail on two scenes that were left on the cutting room floor.
One is Jacob coming home from the bank and he's been refused the loan and Mildred, his girlfriend, is waiting for him. She runs up in the street to see him and she says, did you get the loan? And he says, no I didn't get the loan. And she takes her ring off and gives it back to him. And she says, I thought you were getting a bakery and leaves him. It's a really heartbreaking scene and Dan [Fogler] is beautiful in it.
There's another scene where Alison and Katherine [Waterston] sing the Ilvermorny song, the school song. I asked Alison would she write it, and she wrote this beautiful Ilvermorny school song. And they sing it together and the two boys, Jacob and Newt, they sit there and they watch. And as the girls perform this song, this ode to Ilvermorny, they slowly fall in love.
The director admitted he wondered if he was "insane" for axing these scenes, but ultimately realized they had to go for the greater good. "They're both beautiful scenes, but in the movie and in the momentum of the movie they didn't quite work," he explained. If you're mourning your chance to learn the "American Hogwarts" school song by heart, though, rest assured they'll be on the home video release along with still more bonus material.
Fantastic Beasts and Where to Find Them is in theaters November 18. Look for more from my interview with Yates in the coming days.