Why Producer Matt Damon Had Final Cut On 'Manchester By The Sea'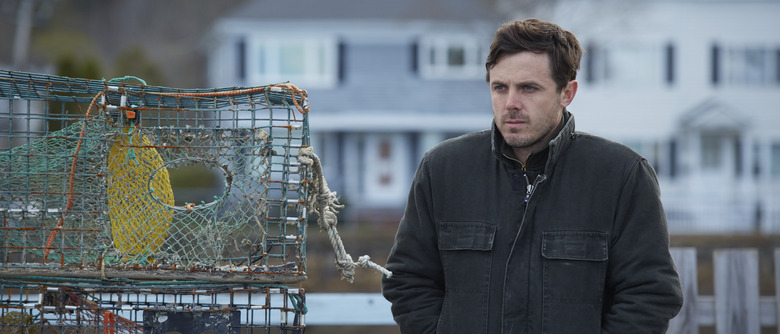 Producer Matt Damon has a history with playwright, writer, and director Kenneth Lonergan. Over 14 years ago, Damon starred in a London production of one of Lonergan's plays, This is Our Youth, alongside Manchester by the Sea star Casey Affleck. Years later, Damon had a supporting role in Lonergan's second film, Margaret, a troubled and long-delayed drama caught up in legal troubles. After that movie, Lonergan's reputation as a filmmaker took a hit. That led to Damon taking final cut on Manchester by the Sea, which he knew he'd never need.
Below, learn more about why the Manchester by the Sea final cut went to Damon.
Initially, Damon was going to direct Manchester by the Sea. Damon and his Promised Land co-writer, John Krasinski (The Hollars), first told Lonergan their idea for the film. Then Damon got Lonergan paid to write the script, and after the actor had read a draft, he realized his friend was the right director for Manchester by the Sea. Scheduling issues also forced Damon to drop out of starring in the project, but he stayed involved as a producer and made sure Lonergan got the movie made.
A part of the problem on Margaret: Lonergan was having trouble cutting the length down to the contractually stipulated runtime. At one point even Martin Scorsese took a shot at making another (and shorter) cut of the film, which was eventually dumped into theaters but had vocal supporters. It took a long time for Margaret to reach cinemas, and by the time it did, Lonergan's reputation, as Damon puts it, had been sullied.
Manchester by the Sea's financier was a little hesitant after Damon left the starring role, partially because of Casey Affleck's history at the box office compared to Damon's and also because of Lonergan's Margaret experience. So, to ease the mind of the financier, Damon took final cut on the drama (source: Variety):
I was the compromise. It was just a way of keeping everybody calm. Kenny had this reputation of not being able to cut anything down. I knew I would never need it.
Just in case things ever turned tense, having final cut could've helped Damon "very rationally and calmly help out." Thankfully, that was never necessary with Manchester by the Sea, which was funded by Kimberly Steward, daughter of billionaire businessman David L. Steward. "It has to be his vision," she said of working with Lonergan. "I can't tell him what his vision is." After a fantastic Sundance premiere, that vision sold to Amazon for around $10 million.
Manchester by the Sea is set to open on November 18th.