Ted Danson And Mary Steenburgen Are Returning For 'Curb Your Enthusiasm' Season Nine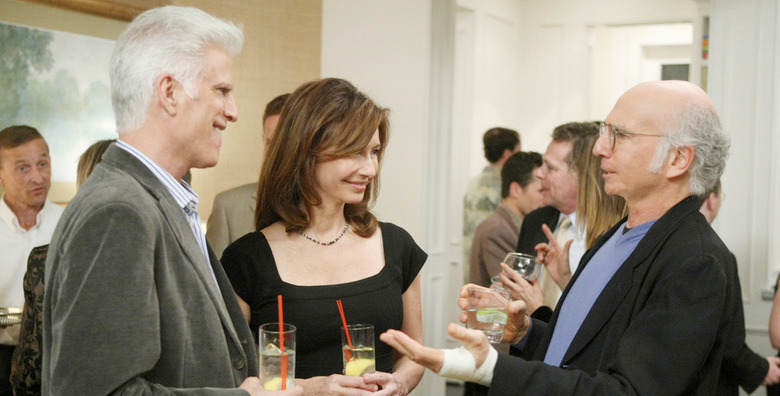 Ted Danson and Mary Steenburgen are returning for season nine of Curb Your Enthusiasm. Danson and Steenburgen first appeared in the HBO series' second episode, "Ted and Mary," in which Larry David goes shopping Mary and her mother, but they continued to play versions of themselves throughout the comedy. Steenburgen appeared in five episodes, while Danson popped up more frequently.
Below, learn more about the Curb Your Enthusiasm season nine cast.
Deadline reports Danson and Steenburgen are joining the core cast of the series. They'll star alongside David, Jeff Garlin, Susie Essman, Cheryl Hines, and an actor we were all excited to hear was returning, J.B. Smoove. Danson, who stars on NBC's The Good Place, and Steenburgen, who currently stars on FOX's The Last Man on Earth, were thankfully able to work Curb into their schedules. They were always delightful guest stars on Curb Your Enthusiasm, especially whenever Danson managed to get on Larry's nerves ("Everything's heaven with him.").
The married couple ended up on the show after watching the Curb Your Enthusiasm pilot with Larry David and an underwhelmed audience  – a good story Danson once told recounted to the AV Club:
I didn't meet Larry until shortly after he had shot the pilot of Curb Your Enthusiasm. I met him on a place that we both go to—we both live in Martha's Vineyard when we're not in California—and we met through mutual friends. We sat there looking at his pilot up in this attic room that was the only room that had a TV in it. It was boiling hot, it was after dinner, and... a couple of folks watching fell asleep. Please quote me. I think—and I'll speak for myself, I don't know if Mary felt this way—I felt a little sorry for him. I thought, 'You know, it's a nice idea, but...' But I said, 'Well, let's be supportive and say, 'Hey, Larry, if you ever need anybody, please call us. We'd love to take part in it in any way, shape, or form.' And a year later or something, we got a call.
Danson added Curb Your Enthusiasm ended up leaving him rejuvenated:
It turned out to be one of the best things that happened to me, career-wise, because I think I'd just gotten to the point where I had thought that I had stayed too long at the half-hour comedy party, and I didn't have anything to offer, I didn't find myself funny, other people were doing more interesting work, and I just felt kind of demoralized.
For the first year of Curb, Danson had a great experience getting calls asking, "What are you doing tomorrow? Bring your clothes and sit in your car and put your own makeup on." This time, that's probably not how the scheduling Curb Your Enthusiasm is going to work. Getting everybody together, working through everybody's schedules must not be easy, but so far Larry David and HBO doesn't seem to be having much trouble getting the old crew back together.
Little is known about the next season of the HBO comedy. As executive producer David Mandel told The Hollywood Reporter, five years after Curb Your Enthusiasm ended, Larry could still be in Paris, but with the addition of Danson and Steenburgen, maybe it's safe to assume the show will return to Los Angeles.