'Moana' Early Buzz & Clip: Does Disney's New Adventure Sink Or Swim?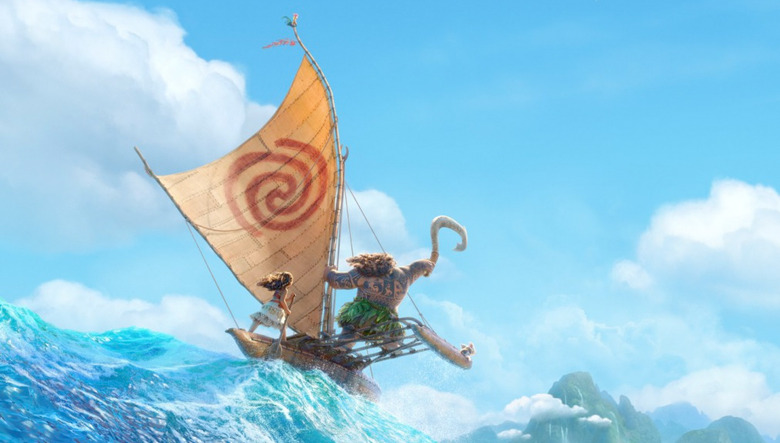 So far, Disney Animation's Moana has looked pretty promising, with an excellent voice cast that includes Dwayne Johnson and an appealing heroine voiced by Auli'i Cravalho. It's technically another Disney princess movie (Moana is the daughter of the chief) but one that's more concerned with Moana's exploration of the Pacific than it is any fairy tale romance. And now with the release date just a couple of weeks away, the first reactions have started rolling in, giving us a much better idea of what to expect.
The studio is currently in the midst of its most impressive run since the Disney Renaissance of the mid-'90s, which bodes well for the creative forces Moana — but on the other hand, means it's got a really high bar to clear. So how does Moana stack up? Get the Moana early buzz after the jump, along with a new Moana clip.
Moana Clip
Before we get to the Moana early buzz, how about a little music to set the mood? The latest Moana clip highlights the new song "We Know the Way," featuring vocals by (among others) Lin-Manuel Miranda.
Moana Early Buzz
And now, the Moana early buzz. All in all, the reactions to this one seem warm and fuzzy. Critics generally seem to dig Moana's foray into fresh territory (i.e., ancient Oceania) and its independent heroine, but some think the overall effect feels a bit too similar to Disney's other work.
Moana has a lot of the hallmarks of your classic Disney adventure — the goofy animal sidekicks, the feel-good messages — but its heroine is something new, a smart and fiery deviation from your standard European lovestruck princesses. (Thankfully, Moana doesn't have a love interest.) The result is a pitch-perfect addition to the animated Disney canon.
Appealing equally to the eyes, ears, heart and funny bone, Moana represents contemporary Disney at its finest — a vibrantly rendered adventure that combines state-of-the-art CG animation with traditional storytelling and colorful characters, all enlivened by a terrific voice cast.
Illustrating the vast beauty of the Pacific Ocean, the animators give us a cheerful high-seas adventure that includes a couple moderately exciting action sequences. In both its comedy and suspense, Moana seems geared toward the younger side of the spectrum for a Disney family film. But the big set pieces are imaginative and stirring enough, especially near the end when Moana finally becomes the hero she was always meant to be.
It's a Disney musical, so you can pretty much guess all the beats, from Moana's number where she sings about her desire to travel the oceans (it's kind of like "The Little Mermaid" in reverse) to the fulfillment of her destiny. But if we're looking at the journey at not the destination, "Moana" is thoroughly entertaining if never completely groundbreaking. (For one thing, it's a movie that's self-aware enough to comment upon the fact that it's yet another Chosen One story but not — repeat, not — a princess tale.)
Moana's "know who you are" message is the sort of thing we'd probably want our children to hear, and there's a pleasing resonance in the way the movie transmits ancient folk knowledge via digital means. But Disney has set a high standard lately. Frozen defied its fairytale template by swerving into matters of sisterhood, Big Hero 6 pulled off a clever trans-Pacific cultural fusion, and this year's excellent Zootopia was both a snappy, original comedy and a valuable primer in identity politics. Moana never quite reaches these heights. Its cultural setting is fresh; its storytelling, less so. It navigates the reefs but it doesn't discover a whole new world.
Unfortunately, Maui becomes the movie's biggest setback for other reasons. The main source of comic relief, his arrival signals an abrupt shift in tone from the vibrant storybook qualities of the first act to a cheekier, winking self-awareness. (When Maui first spots Moana, he uses a bird's beak to a sign a rock with his name and asserts, "They call it tweeting.") Elsewhere, "Moana" stumbles on half-formed ideas, perhaps reflecting the volume of people involved in its direction. An anthropomorphized wave, meant to represent the ocean's intelligence, interacts with Moana like some kind of under-realized supporting character searching for an identity. With the buff Maui and the entire ocean on her side, the stakes of Moana's journey lack any real sense of peril. While the climactic showdown offers plenty of alarming fireworks, it arrives with an air of inevitability that's only slightly improved by the lush images of the finale.
Princesses come in all shapes, sizes, and colors, though Disney's latest addition to its ever-growing gallery of empowered female heroines — Moana (voiced by Hawaiian actress Auli'i Cravalho), the daughter of a Pacific Islands chieftain — doesn't see herself as a princess per se. Even so, as her friend, the Polynesian demigod Maui (Dwayne Johnson), is quick to point out, "If you wear a dress and have an animal sidekick, you're a princess." Thankfully, while Moana is going through a pretty serious identity crisis in the new animated movie that bears her name, Walt Disney Animation Studios has resoundingly solved its own, delivering a musical adventure that's a worthy addition alongside "The Little Mermaid" and "Aladdin," two now-classic cartoons also brought to life by directors John Musker and Ron Clements, whose gift for hand-drawn animation translates beautifully to the realm of CG here.
Moana sails through somewhat familiar waters, to the point where it sometimes resembles a mix-and-match of prior Disney animated classics. But it justifies its well-tread path via knowing humor (one animal sidekick is Bill Pullman-in-Ruthless People stupid) and a commitment to telling a damn good version of said story. Moana isn't just another solid princess-specific adventure. It's acknowledgment of Walt Disney using its awesome corporate power, either through outright original stories or using stories from other cultures, to craft yet another piece of potent and primal female-centric myth-making. That can be Disney's legacy if they so choose. I'm a sucker for this sort of thing, provided it's good. Moana is very good, and thus I enjoyed the hell out of it.
Moana arrives November 23.