Elektra Will Return In 'The Defenders'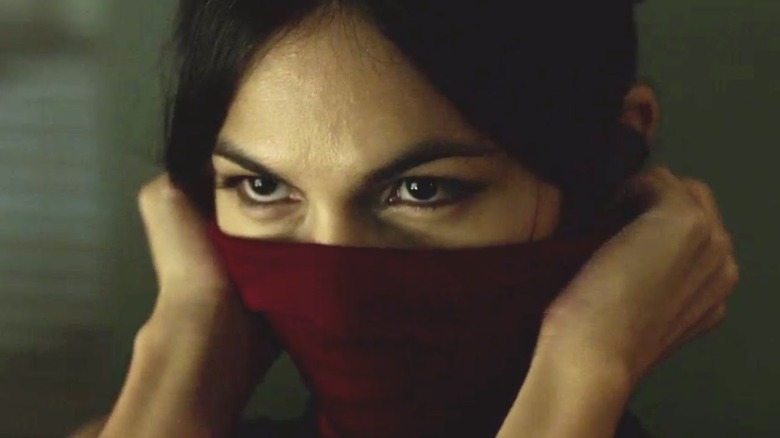 So far, most of the Defenders casting announcements have concerned sidekicks and allies that any Netflix-Marvel fan might have reasonably guessed would return. But today's announcement seems like a more interesting twist. Elodie Yung, who made her debut as Matt Murdock's former flame Elektra in Daredevil season two, will reprise her role for the superhero team-up series. 
The Defenders Twitter account made the big announcement.
— The Defenders (@TheDefenders) November 7, 2016
Elektra's return isn't entirely shocking. (Spoilers for Daredevil season 2 ahead.) Though Elektra died in the season 2 finale, her body wound up in possession of the Hand — the villainous order that will cause trouble for the Defenders in the upcoming series — who seem to have big plans to resurrect her. Besides, she's too important to just disappear from the Netflix Marvel universe. Among other things, we learned last season that Elektra is Black Sky, the weapon worshiped by the Hand. And of course there's her complicated history with Daredevil and Stick.
What's not clear, though, is which side Elektra will be on in The Defenders. Elektra goes out as a good guy in Daredevil season 2, but there's no telling what a resurrection might do to her alignment. If I had to guess, Elektra will probably emerge as an enemy, rather than an ally, to the Defenders. Putting a familiar (and popular) character on the villains' side would add more drama, especially for Daredevil who'll have to process his emotions about her all over again. If she is indeed working with the bad guys, expect to see her hanging around with Sigourney Weaver, who's been cast as the as-yet-unnamed villain.
The Defenders also stars Charlie Cox (Daredevil), Krysten Ritter (Jessica Jones), Mike Colter (Luke Cage), and Finn Jones (Iron Fist), plus Jessica Henwick (Colleen Wing), Rosario Dawson (Claire Temple), Rachael Taylor (Trish Walker), Scott Glenn (Stick), Elden Henson (Foggy Nelson), Carrie-Anne Moss (Jeri Hogarth), Eka Darville (Malcolm Ducasse), Deborah Ann Woll (Karen Page), and Simone Missick (Misty Knight). Jon Bernthal's Punisher is additionally rumored to appear but has not yet been confirmed.
Shooting is underway now in New York. The Defenders will hit Netflix in 2017.