Video: Westworld Episode 6 Discussion With David Chen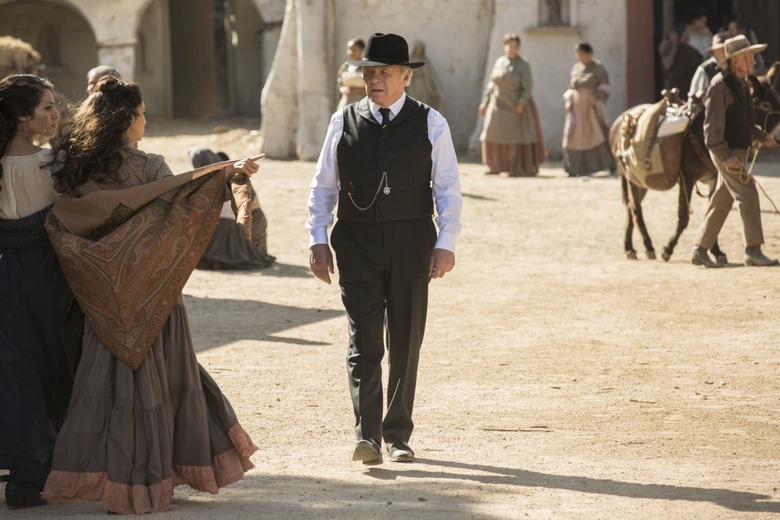 Westworld Episode 6 "The Adversary" aired last night on HBO, and immediately afterward I hopped on Periscope with David Chen to have an informal conversation about the episode. David Chen, as you probably know, runs the popular Decoding Westworld podcast which every week provides a great in-depth and thought-provoking analysis. We are not doing that sort of thing here; instead, we are just chatting off the cuff and presenting theories, opinions, and thoughts.
For those of you who are watching Westworld every Sunday night, I thought you might get a kick of this informal, unofficial Westworld "aftershow" outside of the live boundaries of the Periscope format. So hit the jump and join us for our Westworld episode 6 discussion of "The Adversary."
Please be warned, we talk spoilers for the series leading up to the conclusion of this week's episode, but we also discuss popular fan theories that may or may not pan out.
Westworld Episode 6 Discussion
On Westworld episode 6 "The Adversary," "Maeve (Thandie Newton) charms Lutz (Leonardo Nam); Elsie (Shannon Woodward) uncovers possible sabotage; the Man in Black (Ed Harris) and Teddy (James Marsden) run afoul of a garrison." In the aftershow conversation, I present a wacky theory that David Chen can't even take seriously about how the Westworld television series might somehow connect with the original Westworld movie. We talk about the new mysteries presented in this episode, as well as how the events of "The Adversary" may affect (or not affect) favorite Westworld fan theories.
Feel free to offer your thoughts in the comments below. And maybe if you guys and gals find this interesting enough, we'll post these on a more regular basis on the site.